Antiques Club of the Finger Lakes: The Appeal of Burma-Shave Signs
October 28, 2021, 7:00 pm
-
8:00 pm
Geneva History Museum
543 South Main Street
315-789-5151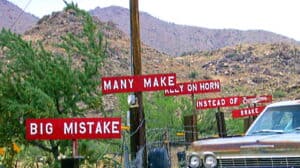 The Antiques Club of the Finger Lakes will present "The Appeal of Burma-Shave Signs" by Dennis Randall at the Geneva History Museum. The meeting is free and open to the public and masks will be required. A virtual option is also being offered.
Burma-Shave was originally a shaving liniment introduced in 1925. Sales were sparse, and the company sought to expand sales by introducing a product with wider appeal. The result was the Burma-Shave brand of brushless shaving cream and its innovative advertising program. The advertising included signs along highways such as Route 66 and many country roads. Usually six signs were erected, spaced for easy sequential reading by motorists. The first five contained messages, building up to the sixth sign, mostly the name of the product. Here's one example: Cheer up, face – the war is over! Burma-Shave. The speaker, Dennis Randall, is a retired engineer with a wide range of interests, including firefighting equipment and musical instruments.
The meeting is presented in cooperation with Historic Geneva. Anyone who wishes to attend the program virtually through Zoom must register ahead of time. To register, click here. The necessary login information will be sent to registrants via email 24 hours prior to the program. For any problems with registration or to register by phone, call the Historic Geneva office at 315-789-5151. Registrations must be complete before 12:00 noon, October 28, the day of the program.
The Antiques Club of the Finger Lakes is in its 47th year of programming meant to foster an interest in and to increase knowledge about all fields of antiques and collectibles. Meetings are free and open to the public, but membership is welcome and encouraged at $10 per year. Programs include meetings at the Geneva History Museum, field trips and social events.
« Back to Calendar of Events