Outside Rose Hill: An Exploration of Landscape and Architecture
May 8, 2021, 2:00 pm
-
3:00 pm
Rose Hill Mansion
3373 Route 96A
315-789-3848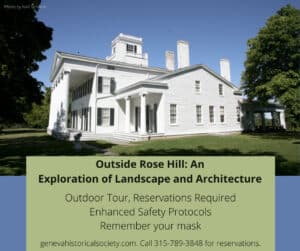 Outside Rose Hill: An Exploration of Landscape and Architecture focuses on the grounds and exterior architecture of the 1839 Greek Revival mansion and its surrounding structures. The one-hour tour will be offered at 11 a.m. and 2 p.m. on Thursdays and Saturdays, from May 6 to June 26.
Visitors on this special tour will see the elements of America's most popular architectural style and learn why it was so fashionable in the early 1800s. The tour explores how the property owners have altered the landscape and constructed a variety of buildings to meet their changing needs.
Outside Rose Hill is by reservation only and tour capacity is limited. Reservations can be made by calling 315-789-3848. Tour admission is $10 for adults, $8 for seniors, and $6 for children 10 to 18. Children 9 and under are free. A family rate of $25 is available for two adults and one or more children aged 10 to 18 in the same household.
The Carriage House Gift Shop and Visitor Center exhibits will also be open on Thursdays and Saturdays from 10 a.m. to 4 p.m. in May and June.
For the protection of our community, safety measures, including face coverings, social distancing and capacity restrictions, will be in place. Restrictions are subject to change based on state regulations and safety requirements in regard to COVID-19.
InHouse is testing the shortcode functionality on an event detail page. This will be removed before launch.
« Back to Calendar of Events