Escape to the Lakes: A Story of NY Refugees from the Yankee-Pennamite Wars
May 4, 2022, 7:00 pm
-
8:00 pm
Geneva History Museum
543 South Main Street
315-789-5151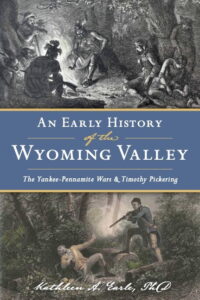 The final program in the Historic Geneva Spring Lecture Series is "Escape to the Lakes: A Story of New York Refugees from the Yankee-Pennamite Wars" on Wednesday, May 4 at 7pm. The program will be presented by Kathleen A. Earle, author of the recently-released book An Early History of the Wyoming Valley: The Yankee-Pennamite War & Timothy Pickering.
Territorial disputes between Connecticut Yankees, local Pennsylvanians, and the Haudenosaunee (Iroquois) in Pennsylvania's Wyoming Valley broke into war multiple times in the last quarter of the eighteenth century. In 1788, a band of young Yankee ruffians abducted Pennsylvania official Timothy Pickering, holding him hostage for 19 days. Several of the kidnappers escaped to the Finger Lakes region of New York, settling here. They included Kathleen's ancestors, Solomon and Daniel Earl, as well as boys from the Budd, Dudley, Kilborn, Whitcomb, Woodward, and perhaps Cady families. Kathleen Earle will speak about the conflict, early colonial life, and the men who escaped to the lakes. She will sign copies of her book as well.
Earle is a native New Yorker whose ancestral roots go back to Pennsylvania. She is an author, artist, former professor and former director of research at the National Indian Child Welfare Association in Portland, Oregon. She attended Cornell University and the Rockefeller College of the State University of New York–Albany, where she received a PhD in 1996. She has written and illustrated several award-winning children's books and many peer-reviewed articles in the areas of mental health and child abuse. She lives in Tenants Harbor, Maine with her husband Stan Fox.
This program will be presented in person at the Geneva History Museum and simulcast virtually through Zoom. Advance registration is required for virtual participation. To register, click here. The necessary login information will be sent to registrants via email the day of the  program. For any problems with registration or to register by phone, call the Historic Geneva office at 315-789-5151. Registrations must be complete before 12 noon, May 4, the day of the program.
The lecture series is supported in part by the Samuel B. Williams fund for programs in the Humanities and is free and open to the public.
« Back to Calendar of Events