Geneva Authors' Night: Jan Regan and Katherine Bourbeau
April 12, 2022, 7:00 pm
-
8:00 pm
Geneva History Museum
543 South Main Street
315-789-5151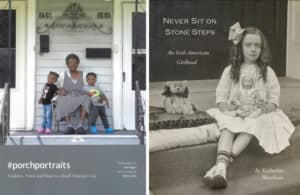 The second program in the Historic Geneva Spring Lecture Series will be a local authors' night with Jan Reagan and Katherine Bourbeau on Tuesday, April 12 at 7 p.m. Meet the authors and learn about their road to self-publish their books about Geneva.
Katherine Bourbeau wrote Never Sit on Stone Steps: An Irish-American Girlhood about her  grandmother's life growing up on Geneva's South Main Street in the early decades of the twentieth century. Orphaned at 10 and raised by eccentric Victorian-age aunts, Mary Frances Carney's life is captured in the photographs that make up the book. Woven together with family stories, they vividly evoke the Irish-American culture and daily life of a young girl coming of age in the first quarter of the 20th century.
Katherine Bourbeau is a photographer and photography editor with a particular love of using historical photographs to craft visual narratives. She has edited photographs for Time Inc., the New York Times and the Wall Street Journal. She has worked on historical projects for ABC News and other media clients. She is a longtime resident of New York City, and a fifth generation sometimes-resident of Geneva, New York.
Jan Regan documented the Geneva experience during lockdown and the first summer of the pandemic in her publication #porchportraits: Pandemic and Protest in a Small American City. The book explores the city's residents through photographic portraits of many on their front porches during the first months of the COVID-19 lockdown. She captured images of outdoor celebrations, graduation parades, and the local protests that erupted in the summer of 2020.
Jan Regan is a Finger Lakes-based photographer specializing in commercial, portrait, tourism, event, and music photography. She has lived in Geneva since 1978.
This program will be presented in person at the Geneva History Museum and simulcast virtually through Zoom. Advance registration is required for virtual participation. To register, click here. The necessary login information will be sent to registrants via email 24 hours prior to the program. For any problems with registration or to register by phone, call the Historic Geneva office at 315-789-5151. Registrations must be complete before 12 noon, April 12, the day of the program.
« Back to Calendar of Events