Geneva Storytellers Awards and Annual Meeting
June 15, 2023, 6:00 pm
-
8:00 pm
Rose Hill Mansion
3373 Route 96A
315-789-3848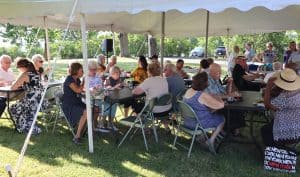 Join Historic Geneva to recognize community members who have been a part of telling Geneva's stories. Geneva is filled with stories. While Historic Geneva is the primary repository of these stories, we are not the only storytellers. Whether it's an ongoing effort or a one-time project, there are individuals, businesses, and organizations throughout the community who are telling stories from Geneva's past and present. To celebrate Geneva's storytellers, Historic Geneva will present the Geneva Storytellers' Awards as part of our Annual Meeting on Thursday, June 15 on the grounds at Rose Hill Mansion.
This year's honorees are:
Lillian Collins
Water St. Café
Finger Lakes Community College—Geneva Campus Center
The event goes from 6 to 8 p.m. with the business meeting and award presentation at 6:45 p.m. Attendees will be able to walk through Rose Hill Mansion at their own pace and enjoy music by Meyer and McGuire. Hors d'oeuvres will be served. Tickets are $25 per person and can be purchased at the door or by calling Historic Geneva at 315-789-5151.
« Back to Calendar of Events