George Washing Machine, Portables & Submarine Races: My Italian-American Life
September 21, 2020, 7:00 pm
-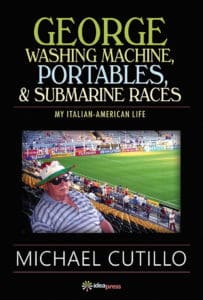 The 2020 Fall Lecture Series starts off with a virtual program on the Italian immigrant experience in America. Mike Cutillo will share stories from his recent book, George Washing Machine, Portables & Submarine Races: My Italian-American Life. The book focuses squarely on Cutillo's 88-year-old Dad, also named Michael, and his father's trials and tribulations as he came to America in 1958 not knowing anything other than a handful of English words. Cutillo writes, the book is "part memoir and autobiographical and part biographical about my Dad… It is a journal, a little bit of a history book and part travelogue. It doesn't contain recipes, but we'll talk about food and drink like a cookbook. It contains language lessons, and we even have thrown in some photographs. It's a lot of things rolled into one."
Born in Syracuse, Mike Cutillo grew up in Baldwinsville, graduated from CW Baker High School in 1978 and from St. John Fisher College in Rochester in 1982. He has been a journalist, a reporter and an editor in Upstate New York since 1982. He is currently Executive Editor of the Finger Lakes Times. George Washing Machine is his first book.
Due to COVID-19 restrictions, this program will be presented virtually through Zoom.    To register click here.   The necessary login information will be sent to you via email 24 hours prior to the program.
This program is supported in part by the Samuel B. Williams fund for programs in the Humanities and is free and open to the public. For more information about the program, call the Geneva Historical Society office at 315-789-5151.
« Back to Calendar of Events