History Sandwiched In: Geneva Medical College
February 3, 2021, 1:00 pm
-
2:00 pm
{hcard}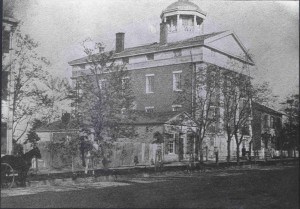 Our first History Sandwiched In program for 2021 will be held on February 3, 2021 at 1 p.m. Please note, this is a change from our normal time. The series features short presentations conducted on the first Wednesday of the month during the workday lunch hour. For the February program, Geneva Historical Society Executive Director Kerry Lippincott will share a short history of Geneva Medical College.
Established in 1834 as a department of Hobart College, Geneva Medical College's claim to fame is granting a medical degree to Elizabeth Blackwell. Lippincott will explore the story of the Geneva Medical College. Along with how Blackwell became a student,  she will answer questions like what a medical education was like in the mid-19th century, why a medical college was established in Geneva, and the legacy of the Geneva Medical College.
Due to COVID-19 restrictions, this program will be presented virtually through Zoom and advance registration is required. To register click here. The necessary login information will be sent to you via email 24 hours prior to the program. For any problems with registration or to register by phone, call the Geneva Historical Society office at 315-789-5151. Registrations must be complete before 5:00 p.m. February 2, the day before the program.
For more information about the program, call the Geneva Historical Society office at 315-789-5151 or visit historicgeneva.org.
For additional programs dedicated to Elizabeth Blackwell on the occasion of her 200th birthday, visit the Hobart and William Smith Colleges website.
« Back to Calendar of Events