My Geneva is…Then and Now: The Smith Center for the Arts
November 16, 2022, 7:00 pm
-
8:00 pm
82 Seneca Street
315-781-5483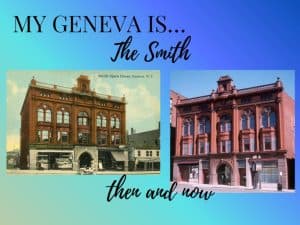 The final program in the 2022 Fall Lecture Series will be on November 16. The lecture will be held in collaboration with The Smith Center for the Arts, and will feature Karen Noonan, Chris Woodworth, and Susie Monagan. It will be in-person only and starts at 7 p.m. at The Smith.
Since its construction in 1894, The Smith Center for the Arts building has had a variety of commercial and cultural uses. Designed as an opera house, it was a Schine movie theater for many decades of the 20th century, and today functions as a venue for film, music, and theatrical performances. It also serves as a community event space for high school graduation ceremonies, lectures, and events.
In this program, Chris Woodworth will look back to the theater's construction and early history as a venue for musicians and traveling theatrical performers. Karen Colizzi Noonan will explore the theater's history as a Schine's Geneva movie theater in the mid-twentieth century. Susie Monagan will share the theater's current commitment to providing and sustaining diverse arts and education enrichment opportunities. The presentation will be held in the lobby of the Smith and is free and open to the public. Tours behind the scenes will be offered following the presentation.
Chris Woodworth is Associate Professor of Theatre at Hobart and William Smith Colleges and creator of The Smith's virtual Ghostlight Tours. Her work can be found at www.thisworldofyes.com.
Karen Colizzi Noonan has been researching the Schine Circuit Theaters for many years and has served on the board of directors of the Theatre Historical Society of America. She has also worked at the Smith Opera House and Auburn's Schine Theater.
Susie Monagan is the Executive Director of The Smith Center for the Arts. She was  previously with the Department of Theatre Arts at Ithaca College and on the Board of the State Theatre in Ithaca.
The series is supported in part by the Samuel B. Williams fund for programs in the Humanities and is free and open to the public. It is being held in conjunction with the exhibition My Geneva is…Then and Now.
« Back to Calendar of Events