Nautical Drama: The Maritime Quarantine of the Joshua Simpkins Opera Company
November 12, 2020, 7:00 pm
-
8:00 pm
{hcard}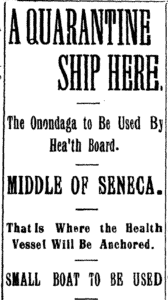 In the final virtual program of the Fall Lecture Series, Hobart and William Smith professor Dr. Chris Woodworth will discuss the 1898 smallpox quarantine of the Joshua Simpkins Opera Company on Thursday, November 12 at 7 p.m. In that year the popular theater company was slated to return to the stage at the Smith Opera House when a smallpox diagnosis among members of the company led to a panic in the community. How did Geneva respond when public health was imperiled? Are there parallels to our contemporary experience of a public health crisis? This story was the subject of Scott Seifritz's play Quarantined, produced as part of The Smith Opera House's 125th anniversary immersive theater event in fall 2019, which featured William Smith graduate Margaret "Gretty" Hollister as Alexa. Gretty will also join us for the program.
Due to COVID-19 restrictions, this program will be presented virtually through Zoom. Pre-registration is required.   To register click here. The necessary login information will be sent to you via email 24 hours prior to the program.
This lecture is supported in part by the Samuel B. Williams fund for programs in the Humanities and is free and open to the public. For more information about the program, call the Geneva Historical Society office at 315-789-5151.
« Back to Calendar of Events