On The Cutting Edge: An Evening At The Cracker Factory
September 22, 2022, 6:00 pm
-
8:00 pm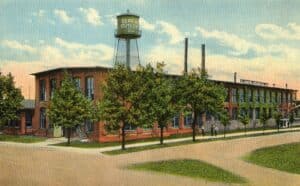 Every building tells a story.  Razors, cutlery, and kitchen utensils are just some of the items that have been produced in the Cracker Factory.  Today the building serves as a furniture factory and event space.
Join Historic Geneva for an evening at the Cracker Factory.  Explore the Miles & May Furniture Works and a private apartment.  Listen to a talk by Historic Geneva Curator John Marks. See a pop-up exhibit tracing the building's industrial history.   The event will run from 6 to 8 pm.  Hors d'oeuvres will be served with a cash bar.  The Cracker Factory is located at 35 Lehigh Street in Geneva.  Pre-sale tickets are $25 per person and $30 at the door.  For tickets call 315-789-5151. Proceeds from the event benefit Historic Geneva.
The event sponsor is The Cracker Factory.
« Back to Calendar of Events