Piecing Together The Past: Jigsaw Puzzle Competition
April 1, 2023, 1:00 pm
-
4:00 pm
Geneva History Museum
543 South Main Street
315-789-5151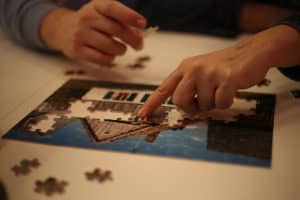 Join Historic Geneva for our second jigsaw puzzle competition, Piecing Together the Past. Teams of four people will compete to finish a 500-piece, one-of-a-kind Geneva themed jigsaw puzzle in under three hours. The fastest team to assemble their puzzle will win a prize. Each participating team will get to take their puzzle home with them.
Participants will enjoy good-natured puzzle-solving rivalry while supporting Historic Geneva. Light refreshments will be served. Space is limited to 20 teams.
To enter the competition, teams must submit a registration form and pay the $30 registration fee (maximum of four people per team). The fee must be paid in full at the time of registration using the team captain's name and contact information.
Registration forms must be submitted by Friday, March 24.
Registration Options
Payment

Pay online with a credit card.
Mail a check to 543 South Main Street, Geneva, NY 14456. Checks should be made out to the "Geneva Historical Society" with the team's name in the memo line.
Piece together the past while supporting Historic Geneva.
« Back to Calendar of Events