Remembering the "Orange Limited:" The Rochester & Eastern Rapid Railway
February 18, 2021, 7:00 pm
-
8:00 pm
{hcard}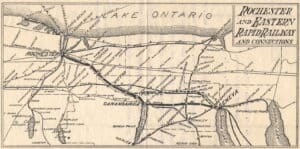 Join the Geneva Historical Society and Ontario County Historian Preston Pierce for a virtual presentation on the Rochester and Eastern Rapid Railway, an electric railway that once ran through Ontario County between Rochester and Geneva.
In this program we will look at the reasons for building an Interurban electric railway from Rochester to Geneva, its operations from 1903-1930, and its impact. It will include images of those reminders of the R&E still visible on the landscape 90 years after the line ceased operations.
In addition to his role as Ontario County Historian, Dr. Preston Pierce is the Museum Educator at the Ontario County Historical Society and Museum in Canandaigua. He also teaches at Finger Lakes Community College and is a retired Social Studies teacher in the Victor Central School District.
Due to COVID-19 restrictions, this program will be presented virtually through Zoom and advance registration is required. To register click here. The necessary login information will be sent to you via email 24 hours prior to the program. For any problems with registration or to register by phone, call the Geneva Historical Society office at 315-789-5151. Registrations must be complete before 12:00 noon February 18, the day of the program.
For more information about the program, call the Geneva Historical Society office at 315-789-5151 or visit historicgeneva.org.
« Back to Calendar of Events