Rose Hill Community Day
August 13, 2022, 12:00 pm
-
4:00 pm
Rose Hill Mansion
3373 Route 96A
315-789-3848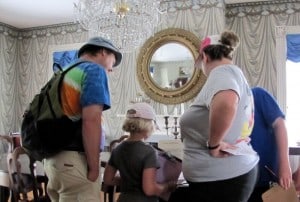 Historic Geneva will bring back Community Day at Rose Hill Mansion on Saturday, August 13, 2022 from 12 to 4 p.m. At this free, family-oriented event, visitors can see the house and grounds at their own pace. Guides stationed throughout the building will share the story of the Swan family, especially the Swan children, and their lives at the mansion and farm from 1850 to 1890. In addition, there will be crafts, games, and activities for kids on site.
Special for 2022: the Frier family will demonstrate their yoked pair of Devon oxen and teach the public about historic agriculture. For more information about activities see this post.
The Carriage House Gift Shop will be open during the event.
Support for Community Day is provided in part by the Nelson B. Delavan Foundation Part A.
« Back to Calendar of Events