Rose Hill Concert Series: Cool Club and the Lipker Sisters
June 18, 2023, 5:00 pm
-
7:00 pm
Rose Hill Mansion
3373 Route 96A
315-789-3848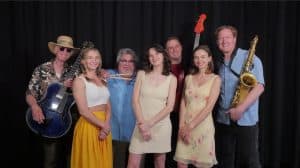 This summer Historic Geneva is again hosting a free concert series on the lawn at Rose Hill Mansion. For three Sundays the grounds of Rose Hill will be alive with music and fun. Bring a picnic dinner and enjoy an evening of music on the lawn to end a summer weekend in the Finger Lakes.
Bring Dad on Father's Day, Sunday, June 18, for a concert of jazz, boogie-woogie, ragtime and swing with Cool Club and The Lipker Sisters. The band are four veteran musicians and three young singers that have been singing vocal harmony, in a way only family can, their entire lives. The Cool Club and The Lipker Sisters bring their unique style to everything they do, be it the Great American Songbook, an R&B classic or one of their infectious originals, never forgetting…"It don't mean a thing if it ain't got that swing."
The last regular tour of Rose Hill Mansion will run at 3:30 p.m. There will be no house tours during the concerts. The Carriage House Gift Shop will be open during the concerts.
The concerts are free and open to the public.
For more information about the concert series or Rose Hill Mansion, call Historic Geneva at 315-789-5151 or Rose Hill at 315-789-3848.  The Rose Hill Concert Series is supported in part by the Nelson B. Delavan Foundation Part A.
« Back to Calendar of Events