The Case Research Laboratory: Birthplace of Movietone
May 10, 2023, 7:00 pm
-
8:00 pm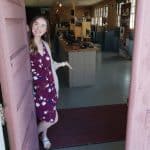 Our final lecture in the Spring Lecture Series connects with our exhibit There'll Be some Changes Made: Geneva in the 1920s and focuses on the development of sound film by Theodore Case in Auburn, N.Y., during that decade. Hayley Boothe, Curator of the Case Research Laboratory at the Cayuga Museum in Auburn will share this story at the Geneva History Museum on May 10 at 7 p.m.
The Case Research Laboratory in Auburn opened in 1916 and spent the "Roaring 20s" inventing world-changing technology. Theodore W. Case, owner and founder of the Lab, had the wealth and the vision to make commercially successful sound film possible. Join us for this presentation and learn all about the history of the Lab, the Movietone sound film system, and much more!
Haley is from a small town in Southwest Virginia known as the "Gateway to the Heart of the Appalachian Mountains." She received a BA in Art History with a focus on East Asian art from Berea College. She later received an MA in Museum Studies from Syracuse University.
This program will be presented in person at the Geneva History Museum. It will be simulcast virtually through Zoom if a minimum number of people sign up for the virtual option. To register for virtual participation, click here. For any problems with registration or to register by phone, call the Historic Geneva office at 315-789-5151. Registrations must be complete by 5 p.m. on May 8.
« Back to Calendar of Events