Immigration in New York State, 1650-1950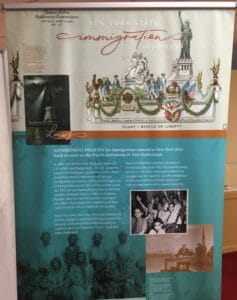 Immigrants built a vibrant, diverse and modern New York State. However, the arrival of European immigrants was also incredibly disruptive. Indigenous people were pushed off of their lands. Enslaved, indentured, and otherwise subjugated populations were exploited in the establishment of the state. Our history bears those imprints, as well as many more positive outcomes. Immigrants have come to New York for many reasons: to escape persecution, to improve their economic outlook, and to build new lives.
Even in a nation built by immigrants, new arrivals were not always welcomed. Throughout our history, laws and policies restricted immigration. New arrivals have faced discrimination and unsafe environments. Despite these challenges and injustices, immigrants' experiences, knowledge, and cultures have enriched our state and shaped our history. Immigrants will continue to build a vibrant, diverse, and modern New York State.
An expanded online version of this exhibit which utilizes material from the Historic Geneva collection is available here.
This exhibit focuses on historic immigration to New York State from 1650 to 1950. The story begins with the arrival of Dutch settlers and continues through the end of the World Wars.
This small four-panel exhibit is from New York Heritage (April 2022).