My Geneva Is: Then and Now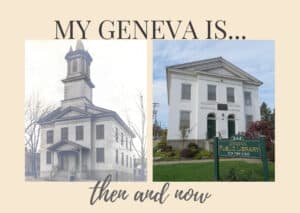 Our community sourced My Geneva Is exhibit theme for this year is Then and Now. In our photograph collection, we have many 19th-century views of Geneva which have significantly changed over the years. We, however, lack similar late 20th- and 21st-century images from around the city and town.  To change this, we need your help.
We're asking the Geneva community to view our digitized James G. Vail Photograph Collection on New York Heritage and pick a few photos you like. Then take a 21st-century photo to match the 19th-century photos around Geneva. Have fun with it! Pose like the folks in the photos or capture others as they walk by!
Need guidance? We're hosting a scavenger hunt from June 13 to August 27 to help guide you on what types of photos we're looking for.  Themed pages with various 19th-century images from around Geneva are available below. Feel free to pick a few or many, find the location, and snap a photo!
Images can be submitted to archivist@historicgeneva.org with the subject line "My Geneva Is" and a description of the photo. All images will be added to our photograph collection, but only one per location will be chosen for My Geneva Is: Then and Now.
Feel free to explore around Geneva and take snapshots of the less well-traveled areas! We may be able to match them with photos in our collections! If you have a matching image already, include that in your submission.   All images are due August 27. For questions or more information contact Archivist Becky Chapin for questions at archivist@historicgeneva.org.