Local History Resources for Teachers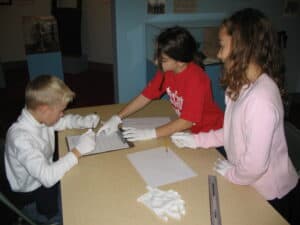 There are a wide variety of local history resources on this website that teachers will find useful in the classroom. In addition to our virtual school lessons, there are images and content for the general public that are useful local history resources for the classroom. Links to blog posts, puzzles, word finds sheets, video and audio files, and external links arranged by topic can be found on our Stay-At-Home Activities page. This list will aid teachers in finding local information on historical topics or seeking materials for student research and image analysis.
Additional local history resources from our collection are hosted online at New York Heritage. This site includes stereoviews and photographs from the late 1800s by James G. Vail, our postcard collection, Civil War documents and letters, and portraits of Genevans from the 1940s and 1950s by photojournalist P. B. Oakley.
Digital, searchable copies of all extant Geneva newspapers from the early 1800s through the 1910s are available online through the New York State Historic Newspapers website. Digital versions of Geneva's twentieth century newspapers are available at fultonhistory.com.
A number of other online local history resources can be found here through the Pioneer Library System.