2022 Holiday Market
On December 4, 1969, the Women's Council of the Geneva Historical Society hosted a Silver Tea and Christmas Sale at Prouty-Chew House.  Though this has become an annual event, as with most activities, it has changed over the years.  Yet its purpose remains the same – raising money for Historic Geneva.  To date the Women's Council and the Wassail Bowl Committee have raised $306,644.21 for Historic Geneva.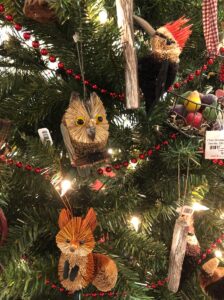 Come and shop at this year's Holiday Market.   The market features items donated and handcrafted by community members.  The Holiday Market will be held from December 1-3, 8-10, and 15-17. The market will run Thursdays and Fridays from 10 a.m. to 7 p.m. and Saturdays from 10 a.m. to 4 p.m. in the Hucker Gallery at the Geneva History Museum.   New items will be added to the selection regularly.  Booths for the Holiday Market will be –
Attic Treasures – Antiques, Collectibles, and Quality Gift Items.
Carriage House Gift Shop – Books, Ornaments, Sweatshirts, and T-shirts.
Christmas Shoppe – Gently – used Christmas Items and Decorations.
Edibles – Jams, Jellies, and Pickles. Baked Goods on December 3 only
Handcrafted Gifts – Crocheted, Knitted, Embroidered, and Quilted Items.
Holiday Greens – Wreaths and Kissing Balls on December 3 only.
A raffle is also being held during the Holiday Market.  Prizes are a family portrait by Neil Sjoblom, a Finger Lakes Gift Basket from FLX Goods, and Finger Lakes Adult Beverages Gift Basket from Three Brothers.  Raffle tickets are $1 each or 12 for $10.   For tickets call Historic Geneva at 315-789-5151 or purchase them at the Holiday Market.  The raffle drawing will be held on Saturday, December 18 at 4 pm.
Admission to the Holiday Market is free of charge.
Parking is on the street or in the Trinity Episcopal Church lot across the street.
Get into the holiday spirit and shop for gifts or decorations while supporting Historic Geneva!