Balmanno Cottage Closing Friday, August 23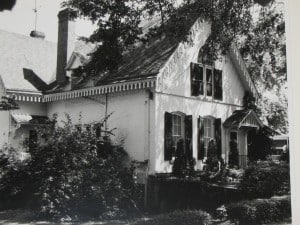 Balmanno Cottage, 583 South Main Street in Geneva, will be closing to the public permanently on Friday, August 23, 2013.
In her will Mrs. Blanchard Walker left her house and the vast majority of its contents to the Historical Society. As part of the bequest she wanted to establish her husband's collection of 18th- and 19th-century American furniture and decorative arts as a memorial to him. These objects became the William Walker Memorial Collection. Since the death of Mrs. Walker in 1997 Balmanno Cottage has housed this collection and the other household furnishings. Mrs. Walker also provided a modest endowment for the house and its contents, but she recognized the potential burden of maintaining it. (We already owned three historic properties.) She stipulated that if we were no longer able to maintain the house, we could sell it but we must display and care for the William Walker Collection.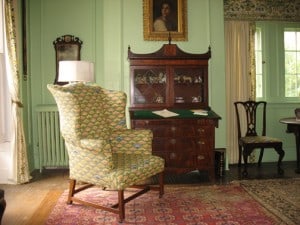 With few changes since the Walkers moved there in the late 1950s, Balmanno Cottage is virtually a time capsule. We developed interpretation which highlighted Mrs. Walker's life, as well as the house's furnishings. The house was part of Annual Tour of Homes, and occasionally used for holiday open houses. For a number of years we hired guides to have the house open for drop-in visits on weekends in July and August. Though visitors were enthusiastic, the overall numbers remained low.
In May, for a variety of reasons, the Board of Trustees voted to sell Balmanno Cottage. While we develop a plan for the permanent location of the Walker Collection, the collection will be temporarily moved to Geneva History Museum (Prouty-Chew House).  Portions of the collection will be on display there in the two period rooms, and the remainder will be placed in collections storage. Not all the contents in Balmanno Cottage are part of the Walker Collection. Objects with significance to Geneva will become part of our permanent collection. The other household contents (non-collection furniture, lamps, rugs, dishes, etc.) will be publicly auctioned at Hessney's on November 6. Proceeds from all sales will be directed towards collections care, such as storage shelves and creating a new display area.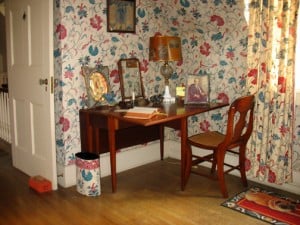 Mrs. Walker wanted the Walker Collection maintained as a memorial to her husband and on display for the general public. We believe we are fulfilling her wishes to the best of our ability.
Balmanno Cottage is currently open Monday through Friday, 9-5 p.m. by appointment only. To visit the house before August 23, please call the Geneva Historical Society office at 315-789-5151.