Different Name, Same Mission: Historic Geneva
By Kerry Lippincott, Executive Director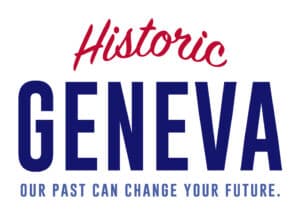 As today the Geneva Historical Society is Historic Geneva.  Our mission of telling Geneva's stories will continue just with a different name.  You may have questions about the name change.
How did the Historical Society reach this decision?  During the fall of 2019 the Historical Society began working with Causewave Community Partners (a nonprofit in Rochester who helps other nonprofits).  Our original goal was to develop a plan to help increase visitation to our sites and participation in our programs and events.   As with most projects, it quickly evolved and became something else entirely.  The final product was a communications plan with two parts – rebranding of the Historical Society and a restructuring of our membership program.  Seeing these ever-changing times as an opportunity, the Board approved the communications plan in the spring of 2020. The past year has been spent designing a new logo and planning the rollout for Historic Geneva.
Why the name change? While creating the communications plan we took a hard look at our organization.  We believe the term "society" may be limiting engagement from the broader community.  In their early history, historical societies were often started by elite community members to preserve one version of a community's history.  Historical societies have evolved into community-based organizations that tell multiple stories but retain a reputation of exclusion.  People have often thought our museums and programs were only open to Historical Society members, which has never been the case.    For over a decade the renaming of historical societies has been a trend.  Among the organizations to rename themselves Ohio History Connection, Historic New England, The History Center in Tompkins County, History Colorado, and Chicago History Museum.  Changing our name reflects our interest in telling the stories of all Genevans.  This is just one step we are taking towards being more inclusive to the Geneva community.
What does all this mean for the community?  Our mission is not changing.  Historic Geneva is filled with stories.  Each story connects people to Geneva's past as a way to engage them in the present and look to the future.  There is something for everyone. Fun, engaging activities for children through school programs, online content, and the Discovery Room at the Geneva History Museum.  Deep dives into local history for the armchair scholar or budding genealogist in our Research Room.  Opportunities to uncover Geneva's stories for the curious through our exhibits, guided tours and programs.  Examining Geneva's stories at your own pace with online content, publications, and self-guided tours.   Shopping local through the gift shops at Geneva History Museum and Rose Hill Mansion.   Being part of telling Geneva's stories by volunteering.  Preserving Geneva's stories through photos, clothing, letters, diaries and other items.  Collaborations to explore un- and under-represented Geneva stories.  Most importantly, your story is part of Historic Geneva.
Historic Geneva tells the stories of Geneva, New York.  Discover  these stories online and in person through the Geneva History Museum, Rose Hill Mansion, and Johnston House.