2022 Year in Review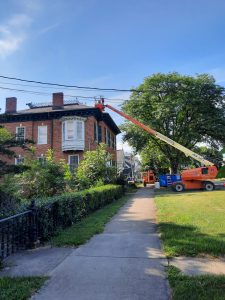 Thanks to a generous bequest from Robert "Jim" Brennan Jr., many deferred maintenance projects at Geneva History Museum and Rose Hill will be completed over the next few years.  In August and September 2022 all the roofs were replaced at the Geneva History Museum.
We welcomed several new employees including Office Manager Rebecca Petropoulos and Rose Hill tours guides Kerry Adams, Rebekah Clark, Dawn Jendrick, and Christine Murphy.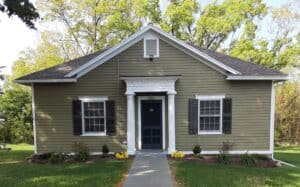 For a one-of-a kind experience spend the night at Rose Hill Cottage. One of the outbuildings at Rose Hill has been converted into a three-bedroom, one-bath vacation rental managed by Finger Lakes Premier Properties.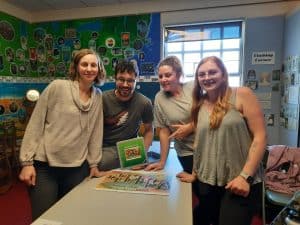 After several postponements due to the pandemic we held our first jigsaw puzzle competition on March 17.  Teams competed to finish a 500-piece Geneva themed jigsaw puzzle in under three hours.
The Geneva History Museum and Rose Hill Mansion are available to outside groups for meetings, programs, and special events.  In 2022 various organizations held meetings at the museum while a wedding and Geneva Rotary Club's Garden Party was held at Rose Hill.
School programs returned in the spring with Taking Tea at Rose Hill  A Civil War encampment was held at Rose Hill in September for Seneca County middle school students.  Second and fifth graders visited Washington Street Cemetery in October for Cemetery Stories.  In December first, second and third graders came to the Geneva History Museum for holiday programs.
With limited access in 2020 and limited hours in 2021 due to the pandemic, the 2022 Rose Hill season was a "return to normalcy."  Along with mansion tours, the summer concert series, specialty tours and Community Day returned.
Geneva is filled with stories.  While Historic Geneva is the primary repository of these stories, we are not the only storytellers.  Whether it's an ongoing effort or a one-time project, there are individuals, businesses, and organizations throughout the community who are telling stories from Geneva's past and present. To celebrate Geneva's storytellers, we hosted a recognition reception in July at Rose Hill Mansion.   For our first recognition reception we honored Lake Drum Brewing, Geneva Public Library and Anthony Bray '23, Samari Brown '24, Sal Fabio '22,Christina Roc '24, and Professor Chris Woodworth from Hobart and William Smith Colleges for From Beyond: Geneva's Unheard Voices.
From student art work to food and beverages, we hosted a variety of exhibits in 2022.  Our exhibits were Geneva Innovators; Gluing The Past Together: Historic Scrapbooks; Immigration in New York State, 1650-1950 (from New York Heritage); Geneva City School District Art Show; Eat, Drink, and Be Merry: Food and Beverages in Geneva, Hip Hobart Forever!: 200 Years of Hobart College, and My Geneva Is…Then and Now.
Our collections care encompassed a variety of activities including digitizing archival materials, transcribing oral histories, answering research requests, writing collections development and disaster plans, conducting inventories, creating finding aids, processing donations, organizing (and in several cases reorganizing) collections, data entry, and filing
Our financial support came from a variety of sources in 2022 – donations, support campaigns, Rose Hill admissions, gift shops  sales,  publicly and privately funded grants, an online auction, On  the Cutting Edge: An Evening at the Cracker Factory, and the Holiday Market.  Thank you to our supporters, grant funders, and others who generously supported Historic Geneva in 2022
The Willows Along Seneca Lake print was an Historic Geneva exclusive.  "The Willows," trees in a grove along Seneca Lake in Geneva, date to the 1890s.
To help tell Geneva's stories we relied on a variety of collaborators. Among our partners were the  Antiques Club of the Finger Lakes, Katherine Bourbeau, City and Town of Geneva, City of Geneva Historian Karen Osburn, Cracker Factory, Dove Block Project, Dryer Arts Center, Kathleen A. Earle, Finger Lakes Times, Friends of Parrott Hall, Geneva City School District, Geneva Housing Authority, Geneva Public Library, Hobart and William Smith Colleges, Lake Drum Brewing, Eric Lewis, New York Heritage, Emily Oberdorf, Jan Regan, Rochester Regional Library Council, and Smith Center for the Arts.
The Community Curator series continued with Mary Jean Wesler (ceramic pitchers), Harriot Weiskittel (books and memorabilia about Queen Elizabeth II and the British Royal Family), Bill Forbis (seashells), and John Labuff (Snoopy collectibles).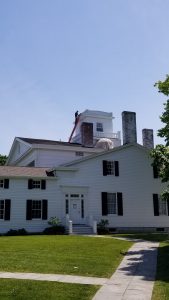 Maintenance projects at Rose Hill included interior and exterior painting, replacing four of the mansion's roofs and rehabbing the belvedere.
By partnering with other community organizations and participating in community events we shared Geneva's stories with the broadest audience possible.  Our outreach activities included "Looking Back Articles" for the Finger Lakes Times; programs for Geneva Housing Authority, 21st Century Club and Geneva Women's Club; class visits and internships for student from Hobart and William Smith Colleges; and participating in the Farmer's Market, Seneca Falls Family History Day, and Mingle with Kringle.
While we use our collections for exhibits at the Geneva History Museum, and to furnish Rose Hill Mansion and Johnston House, objects can be loaned to other museums and organizations.  Prints from our collection were featured in the exhibit Norman Kent: Carving a Path at Houghton House on the campus of Hobart and William Smith Colleges and paintings by Francis Marion Tuttle are part of Shaped by the American Dream: Deaf History Through Deaf Art at the Dryer Arts Center at the National Technical Institute for the Deaf in Rochester.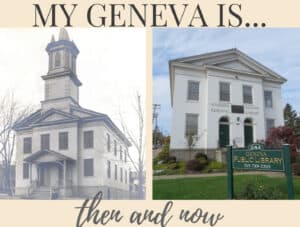 Our 2022 programs included the History Sandwich In series, spring and fall lecture series, a downtown walking tour of bars and restaurants, History Happy Hours, cemetery tours, Rose Hill By Candlelight, Smithsonian Magazine Museum Day, and behind the scenes tours of the Geneva History Museum.
We could not accomplish all that we do without the time, talent, and treasure of community members.  In 2022 we witnessed the passing of several dedicated supporters and friends including John Fouracre, Kamil Kovach, Carol Morse, Sue and Howard Sabin, and Joanne Wisor.