Carriages and Wagons and Of Course, the Horse
By Karen Osburn, Archivist
Almost everyone who knows me knows I am fascinated by horses.  The way they move, how graceful they can be, and the fact that their history is so entwined with that of humans intrigues me.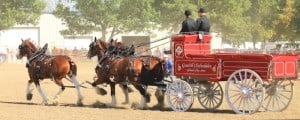 Walnut Hill Farm Driving Competition was August 5 through August 9, a stately, formal competition with skillful drivers, nicely turned out carriages and beautiful horses. I've had the privilege of attending this event several times and left each time in awe of the subtle communication between human drivers and equine partners.  If you have ever seen a Unicorn Hitch (three horses with two in tandem and one in the front) you may have wondered why the arrangement was developed.  The front horse is generally a riding horse to be used when the party in the cart or wagon has arrived at their destination.  I hear this type of hitch is devilishly difficult to drive, though I have no personal experience driving horses in harness.
A few weeks ago I saw the Walnut Hill poster in a store window in Canandaigua.  Not only did it bring back some good memories for me, but it also made me think about the days of horse and carriage in Geneva, and many of our other upstate towns, villages, and cities.  How many times have you driven down a street in Geneva and wondered why there are so many cars parked on it? Why don't people park off the street?  Next time you are muttering under your breath as you traverse the auto obstacle course take a look at some of the properties on the street.  How many of them do not have garages?  How many have a tiny old carriage house?  How many don't even have a driveway?  Many of the houses in our older New York State cities were built before the automobile became popular.  Most of our oldest communities were not laid out to accommodate the "horseless carriage." In the 19th century or before that if you wanted to go someplace you walked, or took the street car, or perhaps went down to the livery stable. At the stable, you could rent a horse and cart or carriage for specified lengths of time and you could take the rig places where there was no public transportation and you could not easily walk.  Livery stables were the equivalent of today's rent-a-car companies.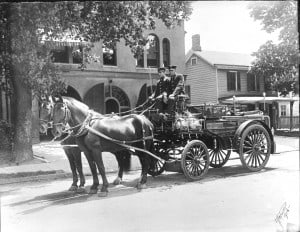 In the 1894 City Directory six livery stables were listed and in the 1890 there were five stables listed in Canandaigua and four in Geneva.  If you've ever ridden in a carriage or road cart you will notice they are not very wide.  You sit pretty close to your neighbor on the seat.  The roads of the 1890s fit carriages quite well, cars on the other hand, even the very small ones, tend to require more room than a horse and cart.  Add to that the multi-vehicle family, which many are today and you can see why the roads can be close to impassible sometimes.
By 1903 there were only three liveries listed and while there were still three stables plus an assortment of harness makers, blacksmiths, veterinary dentists and wagon makers in the 1922 directory there was also an automobile body builder (you could buy a car without a body and have one specially built), 37 garages doing repairing and selling automobile supplies, an auto lubricator, two auto painting companies, three automobile storage places, ten automobile tire and supply places AND 16 automobile dealers! This happened between 1894 and 1922, just 28 years; a very swift and definite change in the means transportation used by Americans! The first automobile dealership to appear in in the city directories was J. A. Place at 39 Linden Street in 1903 and nineteen years later Geneva has 16 dealers.
There are many reasons why the car caught on so quickly.  It didn't take so long to get it ready to go, you started it, got in, and left for your destination.  Horses needed to be groomed, harnessed and hitched a process that could take several minutes even in the hands of an expert.  When you arrived at your destination you would unhitch, unharness water and shelter the horse if you were going to stay several hours. You would repeat the whole process later so you could return home after hours of visiting. Horses could be startled and forget their training carrying you miles out of your way at best or perhaps putting you in the hospital if you were unlucky.  An auto pretty much went where you pointed it and unless you ran out of gas, or got a flat tire it could be relatively trouble free.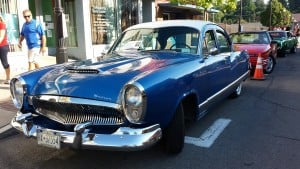 There was another event recently in Geneva, Crusin' Night, where the car is king.  Comparing the stately event at Walnut Hill in Pittsford and the less formal Crusin' Night is a little like comparing apples and oranges, but the one thing I did find in common was the care and meticulous preparation of the show cars and the carriages and carts of Walnut Hill. A choice and favorite vehicle is still appreciated no matter what type of horse powers it.