Every Building Tells a Story: Brook and North Brook Streets
John Marks, Curator of Collections and Exhibits
There is no quick way from the north side of Geneva to Hamilton Street. If you're on North Street near the hospital you're consigned to driving down Main Street to Hamilton and then heading west – and if you're grocery shopping in Geneva, you always end up on Hamilton Street. The other route is to North Brook Street to High Street, west to Nursery Avenue, and thence over to Hamilton Street.
Brook Street has greater meaning than just a pass-through for shopping errands. It's in the heart of the Hildreth Hill neighborhood that each year sponsors a pumpkin roll down the Brook Street hill. The Brook Street Playground and Len DeFrancesco Tennis Courts are a hub of neighborhood and city-wide activity. North Brook Street has the only traffic circle in Geneva and it is a gathering spot in the Castle Heights neighborhood.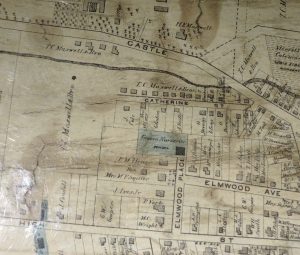 Although a continuous street, Brook Street has two designations. Brook Street runs from High Street to Castle Street while North Brook begins at Castle and goes to North Street. Neither one existed in 1870 (to the left) when the land was owned by the T.C. Maxwell & Bro. nursery company. When in doubt, we can assume that most of the land west and north of downtown was owned by nurseries in the 19th century.
Brook Street's first appearance in the village directories was 1894. There were five houses between High and Castle Streets. The owners seemed to be skilled working class: two masons, a street commissioner, a clerk, and an optical worker. In 1893 the Geneva Optical Company (later Standard Optical) moved from Linden Street to a new factory on Lyceum Street. More employees purchased homes on Brook Street to be a few blocks away from their workplace.
Brook Street developed fairly slowly over the next 16 years. Like other Geneva streets, houses were built in seemingly random order rather than sequentially from one end of the street. By 1910 it was well-developed and residents included plumbers, carpenters, teamsters, and insurance agents.
Twentieth-century Geneva city directories included a city map attached at the back. Few survive as they were printed on very thin paper but, when found, they are very interesting. The 1910 directory map shows North Brook on the map but no houses appear in the book until 1915. The first houses were built near but not at the corner of North Street.
Brook Street houses were primarily built with the narrow gable end facing the street. The width of the house, represented by the number of window or door openings, and the porch treatment were the main differences among similar houses. Built 20 or 30 years later, North Brook Street homes reflected a wider variety of style choices.
The early North Brook homeowners were solidly middle class and employed at some of the same companies as their Brook Street neighbors but in higher positions. James Brown (21) was a treasurer for Geneva Optical Company while J. Murray Means (156) held the same job for White Springs Dairy. James Brew (22) was a bacteriologist at the Agricultural Experiment Station.
We view modern neighborhoods through several factors: current real estate prices, conditions of surrounding properties, and personal knowledge or perceptions. It can be a fun exercise to look at neighborhoods in their original context and learn more about how new streets and houses were marketed to buyers. Our archives has a number of resources if you're interested in learning more about your home.