Brookside Cemetery
By Becky Chapin, Archivist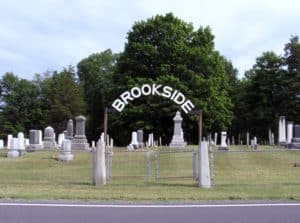 Originally known as Powers' Cemetery, Brookside Cemetery is located at the west end of Snell Road near the Pre-Emption Rd. intersection. This corner of land was used by the original settlers in the Town of Seneca, now Town of Geneva, to bury their family members. The land was originally part of a larger parcel sold to Cornelius Roberts who came here in the 1790s after serving in the Revolutionary War; he owned a portion of the Slate Rock area and most of the land surrounding the cemetery, about 400 acres.
Roberts enlisted for a 12 month period in the Continental Army around December 1775 or January 1776 with a regiment from New Hampshire and was sent to Winter Mile near Boston. His 1833 pension application shows his movements to Cambridge and then back to Boston immediately after the British evacuated. From there he moved to Dorchester to Fort Washington  in New York then to Fort Lee just a few days before the British took Fort Washington. He joined in the retreat to Pennsylvania with General Washington and acted as a ferryman on the Delaware River when the Americans attacked the Hessians at Trenton.
Around the time his one year of service was up he was taken sick in Newton and was dismissed, returning to New Hampshire in February 1777. In June, he reentered service as a substitute for Amasa Parker, joining the New Hampshire regiment at Stillwater, New York; in September and October, he participated in the Battles of Saratoga and after General John Burgoyne's surrender, he was ordered to Albany, joining with General Washington to winter at Valley Forge. He was shortly dismissed in January 1778, finishing his seven months of service, but required to serve as a minuteman where he was "required to have his musket with him at all times, even at church."
Roberts reportedly came to this area with Sullivan's army, purchasing the original 400 acres, but shortly selling off portions to fund one of the first grist and saw mills in the county located in the glen just behind the cemetery. At some point, he became acquainted with Moses Powers, an innkeeper near Elmira who had 12 or more children. Cornelius arranged an indenture with Moses for his 7 year old son, William, who would join him as an apprentice. Cornelius eventually adopted William Powers as his own son and left everything in his possession to William at his death in 1853; he is buried alongside his wife, Isabella.
Powers would serve as clerk for the Billsboro school, which was built in 1813 on a corner of land that belonged to Benjamin Cromwell, where Powers' children and grandchildren would attend. It's William Powers' daughter Elizabeth who was the first burial in Brookside in 1820 at the age of 10 months. The ravine behind the cemetery would become known as Cromwell's Hollow after Benjamin settled in the early 1800s, building a tannery and carding mill on its banks. In newspapers, the cemetery is sometimes referred to as Cromwell's Hollow Cemetery due to its proximity.
Inside the cemetery In 1903, six men would gather in the home of Charles Bond to form the Brookside Cemetery Association: Charles Bond, Anthony Jackson, Walter Dorman, Willard McKelvie, Clarence Dean, and Herbert Wyatt. Four of these men are buried in Brookside with their families. Two recognizable and early settlers buried there include the Ansley and Turck families, their names being the origin of the names of Ansley and Turk Roads. There is even a survivor of the Titanic, Bertha Ilett Christensen, who told her story to Lucile Hartford for her book The Country Cousin.
The Brookside Cemetery Association is still in existence today and were instrumental in ensuring we were able to put on our tour of the cemetery this past fall.