Mystery of the Mill
By Becky Chapin, Archivist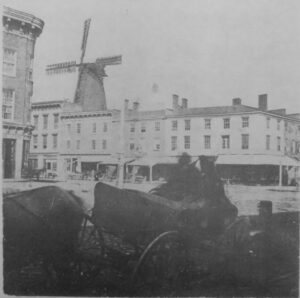 For a few years, I had seen a photo of Castle Street which shows a large windmill type structure behind the buildings on that street. Now, I had a hard time believing that it was actually Geneva because the idea of such a large structure being in downtown Geneva was crazy to me so I decided to do a little research. The reverse of the photo read "grist mill behind north side of Castle" but really no other information. After doing a little searching and reverse engineering through newspapers, I found an interesting story.
The first ad appears on October 5, 1860 for Castle Street Mills, its owners being Evered & Springstead. Charles Evered and B.F. Springstead bought the property in May 1860 from Atkins and Dunn's cabinet factory and turned the building into a Flouring Mill and Flour and Feed store. Their partnership did not last long as Springstead left the business soon after it began and John Wride had joined Evered by the time the 1862-63 city directory had been published.
The mill would be leased to William Herrick in September 1865, who occupied it until 1873. Shortly after Herrick took on the property, an accident was reported in the Geneva Daily Gazette on December 22, 1865:
"…with its large wind gearing under full headway, one wing of the apparatus, which had become partially disarranged by long usage, gave way, falling to the earth with a heavy thud, striking into Castle street. Mr Wm H Fisher, who was sitting in his wagon, was struck on the head and breast by the falling mass, crushed through the buggy and fell senseless to the earth."
 No report of Mr. Fisher's death was published, so we don't know his fate. Herrick must have rebuilt the mill as he continued to produce flour for Geneva. Newspapers encouraged Genevans to "patronize home industry" as he was the only flour mill in town.
In September 1873, Herrick sold the Castle Street Steam Flouring Mill to (George) Lockie and Horton, the latter of whom had 30 years of experience in milling. They renamed the business to Novelty Mills in December, took on another partner in early 1874 (Addison Day), and a year later the firm was dissolved. Lockie joins forces with Winsor Beebe for a few short months, before Lockie also leaves the business. Beebe partnered with Warren Church at the time of the dissolution and continued the Castle Street Mills business for another few months after which Beebe sold his portion of the business to Church.
On December 8, 1875 the Geneva Courier ran a detailed article about the burning of the Grist Mill. It turns out that when the firm dissolved on October 26, 1875, Warren Church took full possession of the business, which came with four insurance policies. The very next day, Church applied for a further three policies. On October 30, there was a fire in the mill. Insurance companies would pay out some money, but rumors must have spread because the companies started to converse with each other. As a result, Church surrendered all his policies back to the concerned companies.
I couldn't find any other reports in the newspaper about whether the fire was set intentionally or any other updates, though in October 1876, George Lockie sued Warren Church over property on Castle St. An 1877 newspaper column called "Geneva Improvements" described the Morrison mill property on Castle being rebuilt after a fire a few years back, but I'm unsure if this would be the same land. I was also unable to confirm when the mill was taken down, but there are no other photos of this mill that I could find.
So although I solved the mystery of the mill, there were many other questions that may never be answered.