Memories of Geneva Rollerdrome
By John Marks, Curator of Collections
When I select old photos for Facebook, I try to appeal to a wide audience. Many viewers remember the 1950s and 60s, but others weren't born until the 1980s or 90s. One person's "recent past" is another's childhood memory.
Last month I selected a batch of photos from a 2003 project we did with Geneva City School District fifth graders. Students were given disposable film cameras – remember those!? – and asked to take pictures of people, places, and things that meant something to them. Among buildings around town, there was a photo of the Geneva Rollerdrome on Route 14 north of the city.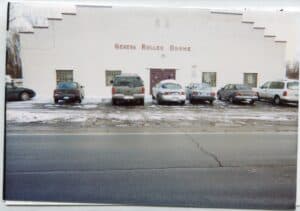 If you're unfamiliar with Facebook, our average photo gets around 2,500 views, a handful of shares (viewers sending a link to their friends), and 20 comments. I posted the Rollerdrome photo and within a few days it had 27, 898 views, 208 shares, and 67 comments. The comments were fairly similar across generations:
"Me and my friends would go every weekend and skate all night. Plenty of innocent skates holding hands with the boys we liked. Good music, good friends, good fun!"

"My youth fellowship at Reed Corners Federated Church loved skating there in the 1960s!"

"We had our daughter's birthday party there. In the 90s."

"I went every Friday and Saturday night and Sunday afternoon, practically lived there. Remember the conga skate, moonlight skate, couples only, many memories."
The Geneva Rollerdrome was a family business. Joe, Ben, and Sam DiFederico constructed the building and opened it in 1955. Family members took admission, handed out skates, and sold concessions. As the comments indicate, there were open-skate nights, and times that groups reserved the floor. In the 2000s, rollerskating became less popular but the Rollerdrome was still an affordable option for kids' birthday parties.
The Rollerdrome was rented out for other events, the most famous being a Hobart & William Smith spring weekend dance in 1965. The band was James Brown and his Fabulous Flames – yes, that James Brown. The review in the Colleges' newspaper The Herald was non-committal. "There were different opinions on the quality of the band. It cannot be denied, however, that James Brown is an exciting performer. His gold jacket and long hair alone were quite a show."
Ben DiFederico's widow, Joyce, ran the Rollerdrome until it closed in 2010. However, their son Bruce is keeping rollerskating  alive in the Finger Lakes. In 1984 he began Bruce's Mobile Skating, taking the skating party experience to people, from Syracuse to Buffalo.
For a business that lasted 55 years, we have no photos of the Rollerdrome but the one shown here. If you have photos from your time there, we would love to see them!