Howard & Union Streets
By John Marks, Curator of Collections and Exhibits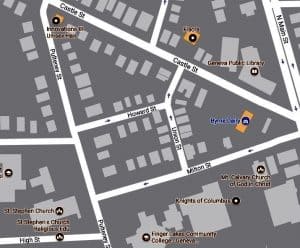 I have been writing about streets that catch my eye. This month's streets may be unfamiliar to many people. Has anyone asked you for directions to Howard or Union Streets? You may drive past them every week or even every day and be unaware they are there. They are not easy to drive onto, there is one one-way entrance from a one-way street.
Howard and Union Streets lay in the triangle of Milton, Castle, and Pulteney Streets. That triangle appears in early maps of Geneva but Howard and Union don't show up until 1850. (Statements such as "early" and "not until 1850" are based on the maps in our collection. There may be more maps somewhere that provide more precise information but we don't have them.) In fact, the 19th century maps label only the street from Pulteney Street as Union and leave the connector to Milton Street blank.
The 1850 map shows only two houses within the triangle. Based on property information I believe both of them were replaced later in the century. The Castel (sic) Street Chapel may have been originally used by the Methodist Episcopal Church before they moved to a new building on the corner of Seneca and Main Streets.
As I walked around to take photos I realized part of my attraction to this neighborhood was the houses on Milton Street that flank Howard Street.
I like smaller brick homes with a touch of Greek Revival (gable end facing the street) or simple Victorian elements like the decorative porch trim.
A word on these dates: You can find property information including dates built through Ontario County Online Resources (OnCor). I don't know the original source of their dating information but based on styles the dates seem accurate.
Sanborn fire insurance maps helped property insurance underwriters come up with premium rates. The original maps were color-coded by building and roofing material, fire protection and security systems (particularly for industries), etc. For history researchers, they provide a periodic snapshot of how streets developed. They also show if a house has been altered over time with additions or removals.50 Milton Street (1850)
Howard and Union Streets had their present names by 1890. Over time you can see that lots were divided into smaller parcels and the housing pattern became denser. The houses have changed little since 1925.
I imagine Union Street had a lot of foot traffic when the High School and Junior High School were on Milton and Pulteney Streets. A few FLCC students walked down the street the day I was there. The streets seem to be insulated by the surrounding houses from traffic noises.
If you grew up on Howard or Union Streets or know more about the houses, I would love to hear from you.