Looking Back on Chocolate Almond Coffee Cake and Department Stores
By Karen Osburn, Archivist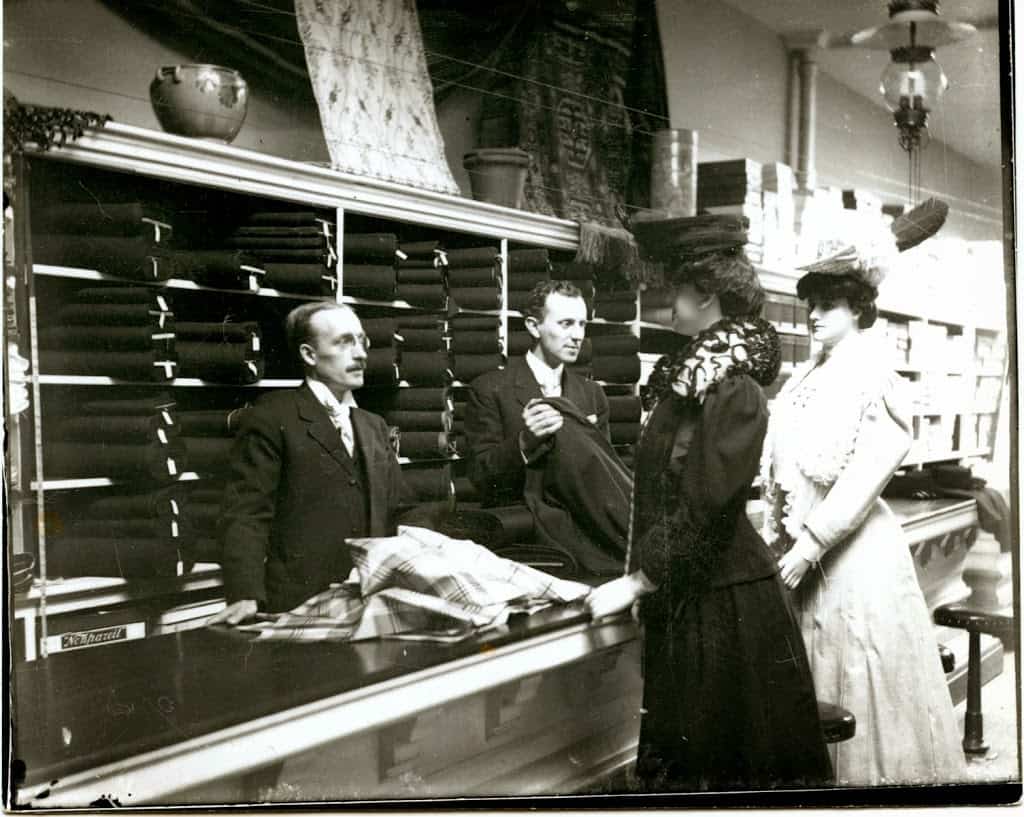 When I was very young I remember my mother dropping me off at my grandmother's house in Rochester and taking a bus downtown to shop in Rochester's department stores.  Sibley, Lindsey and Curr Co. was THE store at the time.  I used to beg her to take me with her, but she never did.  I had to wait until I was 14 to take a bus downtown with my girlfriend to get my first peek at this magical store that had EVERYTHING!  I still remember my friend, Pamm, telling me to close my mouth because it made me look like a "country hick."  (We lived in a very rural part of Greece, NY at that time.)
As I stood under the clock in Sibley's I knew I had never been in any store as fascinating before.  I am really happy I had that opportunity, because 20 years later that "magic" era was disappearing and the era of the suburban mall was firmly entrenched, syphoning business away from downtown stores.  Of course the malls are not solely to blame for the decline of downtowns and department stores, but it did play a part.  For someone like me, visiting stores like Sibley's, McCurdy's, Forman's, or Edward's with their very professional sales staff, who knew their frequent clients likes and dislikes and treated them with great deference even to the point of calling them when that special dress line arrived, the special bolt of cloth was in stock or your favorite author's newest book was on the shelf was a memorable event.  I look back on these experiences with fond nostalgia.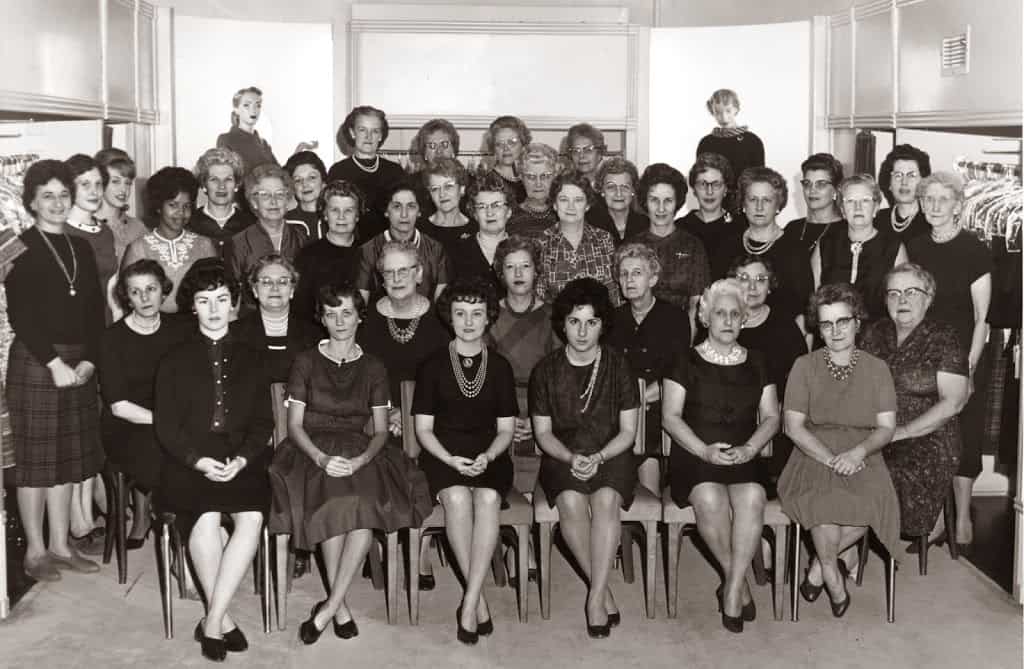 Geneva had its share of department stores, too.   J. W. Smith's was the big one in our city.  I didn't move here until after the store was closed, but I remember talking with Genevans who shopped at Smith's.  One couple told me of shopping there the first Christmas they were married and how the store wrapped everything and delivered it to their home.  Another person spoke with fondness of the store's lending library.  I don't recall having heard of a store with a lending library before, but I have a book in the archive with a book plate from Smith's lending library in it.  We also have photos of the store's interior, the fabric bolts, and millinery area.
Briefly, John Williams Smith and S.S. Cobb opened a dry goods store in Geneva in 1847 under the name Cobb & Smith.  John was a young child when the Smith family moved to Geneva from Massachusetts in 1822 and became lifelong residents from that moment on.  He worked as a clerk in various local stores until he accumulated enough experience and money to start his own business.  By 1849 S. S. Cobb left the firm and Solomon E. Smith Joined his brother in the dry goods business.  Jointly they operated J. W. Smith & Co. until John died in 1878.  The company name stayed until 1892 when a stock company was formed with S. E. Smith as President and Wm. Whitwell as secretary and treasurer.  The business name was then changed to The J. W. Smith Dry Goods Co.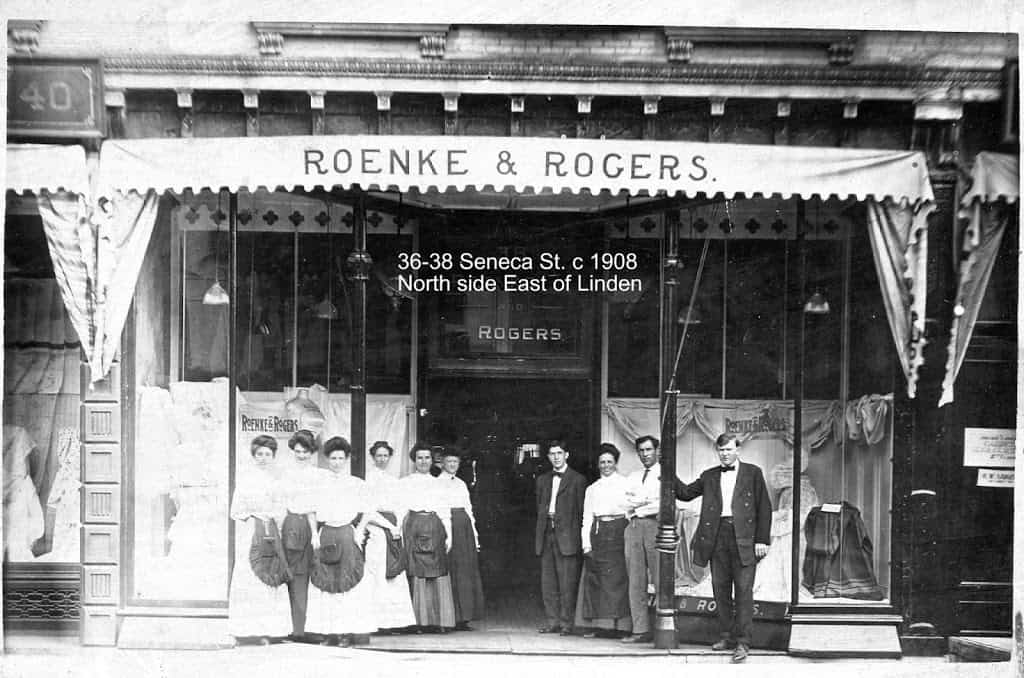 On April 1
st
, 1929, the J. R. Roenke's Sons, Inc. (formerly Roenke and Rogers) dry goods store, located next to Smith's on Seneca Street, merged with J. W. Smith Company and for close to a year was run under the management of Henry and Richard Roenke.
At the end of that period the Roenkes acquired a controlling interest in the company which retained the J. W. Smith name.
When Smith's closed in 1977 it was the oldest continuously operated Department Store in the United States.
It was a sad day for J. W. Smith's loyal customers when Smith's closed in Geneva leaving the building to be used by other businesses.  For instance, Don's Own Florists, is one of the businesses in the old Smith Building at 40-42 Seneca Street.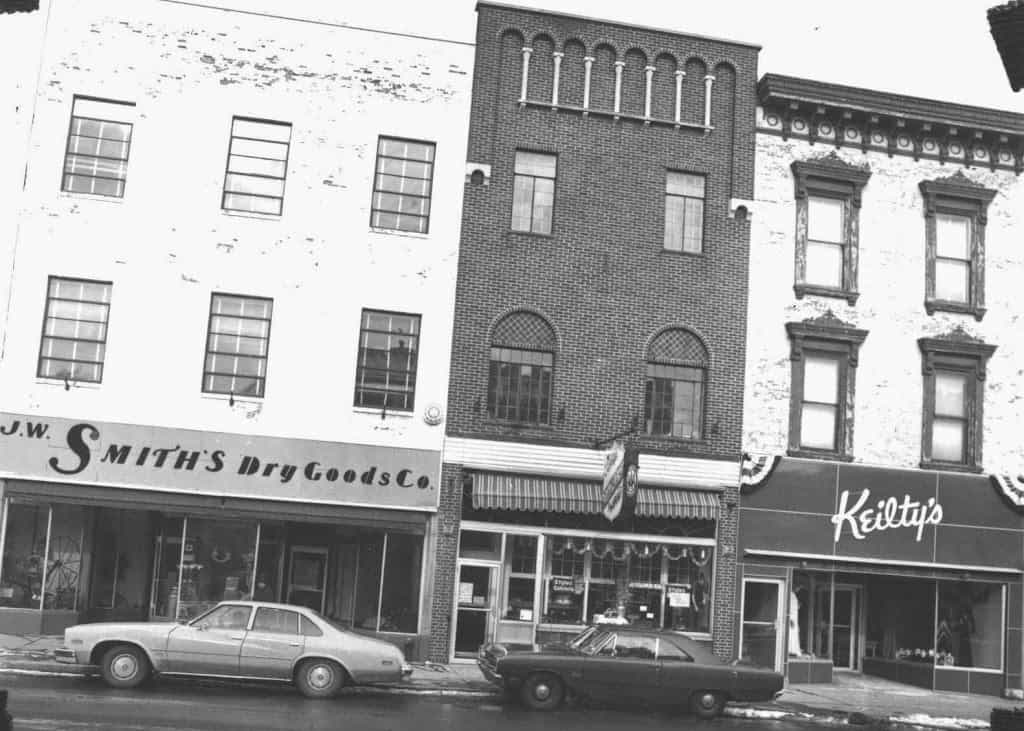 As I walked around Geneva's downtown recently, I saw signs of growth that allow me to hope the day of under-utilized city centers is coming to an end.  Stores like Stomping Grounds, Finger Lakes Gifts and Lounge, Whisper Chocolate, Mother Earth, Super Casuals and Don's Own to name only a few are making for an interesting and pleasant shopping experience.  I was able to do the majority of my Christmas shopping locally this year which was a pleasant experience compared with fighting the mall traffic.  I anticipate the day when I can wander downtown and purchase anything I need without having to get in my car and fight the suburban traffic.  And I believe it is coming!
Oops, I forgot to tell you about the Chocolate Almond Coffee Cake.  The fifth floor of Sibley's was a bakery and they made a coffee cake that had a chocolate almond filling in a pastry- type crust. I purchased one every time I went to Sibley's.  They also had a gourmet grocery on the first floor which sold beautiful fruit and vegetables and items that were not found in the grocery stores where I shopped.  I remember being so disappointed when General Motors took over the 5th floor of the Sibley building displacing the bakery.  Eventually the entire food section of the store was phased out and sometime after I moved from the Rochester area, the store was closed.  The day I can buy a chocolate almond coffee cake in Geneva is the day downtowns will have come full circle for me.