Pierce and Bickford
By Kerry Lippincott, Executive Director
There are many subjects that I consider myself fairly knowledgeable about, but architecture is not one of them.  Like art, I like what I like.  However, while working for the Chemung County Historical Society in Elmira I couldn't help but learn a thing or two about the architectural firm of Pierce and Bickford. The firm built a variety of structures in and around Elmira, including Elmira City Hall, F.M. Howell and Co. building, Hedding Methodist Church and several private homes.  To my surprise, I've discovered that Pierce and Bickford have a connection to Geneva.  In the early 1890s, they built and designed the YMCA building (76-86 Castle Street) and the Smith Opera House.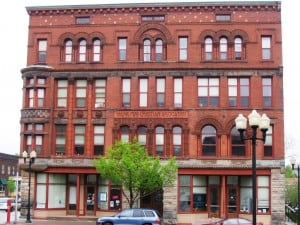 YMCA Building
Born in Dundee, Joesph H. Pierce (1855-1932) came to Elimira to study under the architect Eugene B. Gregory.  Within a year Pierce was working for William H. Hayes (the first graduate of Cornell's architecture program).  Between 1883 and 1890, Pierce had a partnership with engineer Otis Dockstader.  Though the firm of Pierce and Dockstader constructed a variety of buildings, they specialized in residential homes and churches.  In 1890 Hiriam H. Bickford (1863-1928) joined the firm as a draftsman.  Little is actually known about Bickford.  Born in Vermont, Bickford worked for several firms in the Northeast before coming to Elmira.
In 1891 Piece and Bickford formed their own firm.  Based out of Elmira, they would design and construct schools, churches, private homes, apartment houses, commerical buildings, hospitals, public buildings and other structures in New York, New Jersey and Pennsylvania.  In all Pierce and Bickford built several hundred buildings and designed the renovations of many more.   A number of Pierce and Bickford's buildings are on the National Register of Historic Places.  These include Dundee Methodist Church, First Baptist Church in Painted Post, Elmira Heights Village Hall, Fire Station No. 4 in Elmira, and the Clifton Springs Sanitarium (the Spa Apartments).
After Bickford's death in 1928 his son Robert (who had served as a draftsman at the firm for several years) became Pierce's partner.
For more information about Pierce and Bickford, read Architects of Standing: Pierce & Bickford Elmira, NY, 1890-1932 by Roger G. Reed.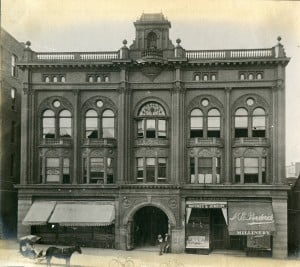 Smith Opera House