St. Patrick's Cemetery, Part 1
By John Marks, Curator of Collections
Last year, our William Smith summer intern, Jordan Raivel researched and created a tour of St. Patrick's Cemetery. Becky Chapin, our archivist, and I were responsible for this year's tour of a different section of St. Patrick's. I learned how much work is involved in selecting and researching names myself.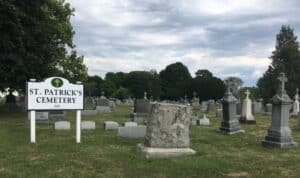 One thing I learned is that we didn't have a written history of the cemetery's founding. It wasn't mentioned in the local newspapers. With the help of Betty DiFederico at Our Lady of Peace Parish, I pieced together some basic facts.
In 1832, St. Francis DeSales Roman Catholic Church was built on Exchange Street. A decade later, land for St. Patrick's Cemetery was acquired to the east on North Street. In the 1800s, both were on the outskirts of Geneva, as the Irish and Roman Catholics were unwelcome in the village.
The first burial in St. Patrick's was in 1843. Many of the early interments were parishioners born in Ireland. Italian surnames, or English versions of them, joined them in the early 1900s. In the late 1920s, St. Patrick's was expanded to the south. Even with additional land, more space was needed. St. Mary's Cemetery on Pre-Emption Road opened in 1947.
My selection process was equal parts familiarity, curiosity, and location. I picked out names I knew, like Madia, Bihary, Massa, Legott, and Anania. I wrote down Guiseppe Guglielmino to see if I could learn anything about him. And, because of the pandemic, grave sites needed to be spread out so visitors weren't clumped together.
A few of the familiar people weren't the ones I thought I knew. Joseph Madia owned a grocery in several locations over time but didn't start what became Madia's Big M on Castle Street. Nicholas Massa was born in Pennsylvania but lived most of his life in Geneva. While he formed the Nick P. Massa Painting & Decorating Company in 1920, he didn't start Massa Construction. His son Dominick established that company in 1959.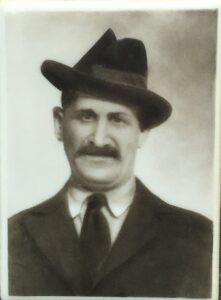 Guiseppe Guglielmino (1872-1922) caught my attention for both his name and his photo on his headstone. I couldn't find his name in the newspaper until I saw a legal notice that said he was also known as Joseph Williams. Then I found a little more information about his life and death. He was Phillip Lanasa's half-brother, and partner in the Lanasa and Bro. fruit company. He died when the fruit truck in which he was riding swerved and rolled over.
The most recent site I chose was Gary Finnerty, who passed away in 2013. I didn't know him well but he was a smiling presence wherever he went. He and his family supported our food and wine fundraising events at Rose Hill for a number of years. He was involved in Democratic party politics, the American Legion, the Knights of Columbus, and Our Lady of Peace Parish.
I wish there was enough time to learn and tell the story of every family in St. Patrick's Cemetery. If you have family stories and photos of loved ones interred there, we would love to add them to our archives.