The Willows Along Seneca Lake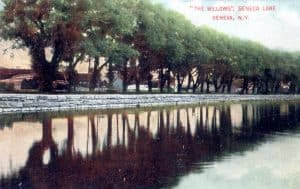 Finding information about the history of the Willows, the trees in a grove along Seneca Lake in Geneva, has proven to be difficult.  In a Geneva Daily Times article dated November 29, 1966, E. Thayles Emmons wrote that there is nothing to indicate when the Willows were planted or for what reason.  With the limestone seawall completed in the mid-to late 1890s, the Willows were most likely planted around the same time.  Emmons also wrote that the Willows were presumable planted to help protect the shoreline.
Additional trees were planted in the 1920s by the American Legion to honor soldiers who died in World War I.  Each tree had a marker bearing the name of a local solider.  The markers were later removed as part of the Routes 5 & 20 arterial project and re-installed at the former American Legion on Lochland Road.   The Lake Road was only 15 feet from the water.  In the 1960s the road was moved, but the Willows are still a beloved feature of the lakeshore.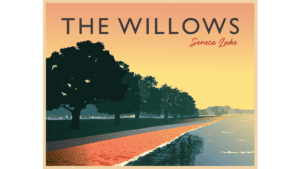 Now available through Historic Geneva is The Willows Along Seneca Lake print.  The print measures 14 in. by 11 in. Based on a postcard in our collection, the artwork is by Diego Melendez.  The print can be purchased at the Geneva History Museum or on historicgeneva.org. Proceeds benefits Historic Geneva