The Last Music Store
By John Marks, Curator of Collections and Exhibits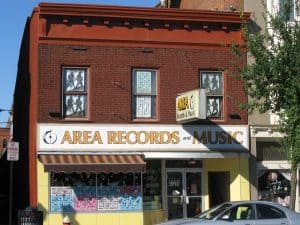 Mike George, owner of Area Records & Music on Seneca Street, tells stories about college-age kids who come into his store next to the Smith Opera House. They take a few steps inside, stop, and say, "Wow! My parents have told me about these, but I've never seen one!" One what? "A record store!" Being an otherwise honest and trustworthy guy, Mike swears these stories are true.
Music stores were once part of every downtown large or small and catered to the needs of the day. In 1841 Kingsland's on South Main Street carried "music calculated to suit all purchasers, from little Bo Peep to Beethoven's Grand Concerto in C Minor." There was an emphasis on stringed and keyboard instruments. The only wind instruments mentioned are "clarionets" and flutes.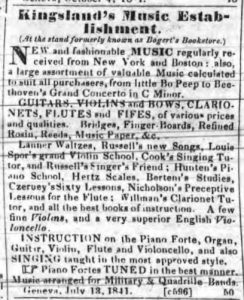 While music stores remained constant, the products began to change. Pianos became more affordable and were marketed to broader audiences. The sales pitch in women's journals and music stores was that piano lessons brightened the home and brought the family together to sing wholesome hymns and songs. The fact that this may not have been the reality – children who could play well enough to cheer the family – probably contributed to player piano sales.
The phonograph was the next step in mechanical music. For almost three-fourths of the 20th century technology was wrapped in wooden veneer and marketed as furniture to be a centerpiece of the home. Shrewd retailers kept one eye on the future and one on the past. "Small Goods" listed all the traditional instruments that Martin & Bro. carried.
We know from photographs that someone was selling brass and wind band instruments. Brass bands were found at factories, military drills, Italian gatherings, and Sunday concerts in the park. Geneva was connected by train and electric interurban trolley to Rochester so musicians may have gone out of town for their instruments.
Bolin's House of Music, Ray Costello, Christenson Music, and Martin's Music (not connected with the earlier J.W. Martin) are within many readers' memories. Pianos lost prominence as the "must-have" instrument as guitars became more popular. Some businesses shifted more to records and sheet music.
Area Records and Music has traveled the opposite path. It began selling vinyl albums and 45s and other formats of the day such as 8-track and cassette tapes. As the business grew, Mike George saw a market for guitars, drums, and sound equipment. He moved from One Franklin Square to 74 Seneca Street and expanded the space. He also began renting band instruments when he felt the school-approved vendors were too expensive for local families. His line of acoustic instruments has changed as Americana music and ukuleles have become popular.
A gentleman stopped me in a parking lot one day when he saw the Area Records sticker on my car. "Do you shop there?" I do, but I never thought of it as shopping before. I know the owner and employees (another foreign concept since they've all been friends for years) and nine out of ten times I go to the store just to say hello.
Area Records just celebrated its 39th year in business. Retirement is in Mike George's future and I don't believe the store will continue after that, certainly not in its current form. The store reflects his decades of knowledge about the music industry and the local market and what people will buy. There may be another music store, but it won't be like this one.
Epilogue: I've thought about other local businesses and how important personality is to their success. I've long told people that when you walk into a Geneva store, chances are almost certain that you'll be served by the owner or a very long-term employee. Church's Hardware = the Ficcaglias, Earthly Possessions = Yvette Ortiz, and Super Casuals = the Fragnolis. Bob "Cork" Corcoran recently passed away after working at Super Casuals for over 40 years. He will be missed in the store and around town.