The Sounds of Music
By John Marks, Curator of Collections and Exhibits
Researching the Music in the Key of Geneva project has been fun. Online collections of historical newspapers, have made research much easier. Papers are searchable and accessible from any computer, as opposed to scrolling through microfilm. I can easily search names I find in articles to learn more about them.
However, the attraction of a music project is….music. Fortunately recordings are another source now available online. The Library of Congress, in association with Sony Music Entertainment, "makes historical sound recordings available to the public free of charge" on the National Jukebox. The Library digitizes and catalogs the recordings. Sony Music owns the rights to Victor, Columbia, OKeh, and other recordings and allows the free streaming. To access the National Jukebox click here.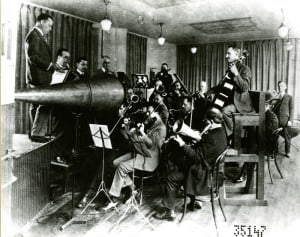 Sony isn't giving away all their assets. Rights only extend to acoustical recordings made before 1925. A large horn focused sound waves onto a diaphragm that transferred vibrations to a recording stylus. Engineers could change the size of horns and traits of the diaphragms and wax discs. Performers tried different groupings and distances from the horn to capture the best balance. There were no electronic tricks available to improve the sound and these early records may sound odd to our modern ears. (People who are interested in learning more can go to)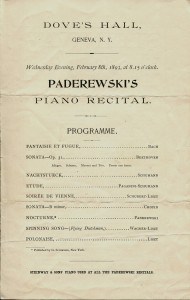 I began using National Jukebox acoustical recordings to hear some of the famous artists who performed in Geneva. I was unfamiliar with many of the names I found in my research, but Ignacy Paderewski was one I knew. The famed pianist was to have played at Linden Hall but that building's fire in December 1892 moved his performance to Dove Hall.  Click here to listen to Paderewski's composition Minuet in G major, op. 14, no. 1 recorded in 1910 by the Victor Orchestra.
John Philip Sousa appeared in Geneva numerous times. After leaving the US Marine Band, Sousa named his first civilian group Sousa's New Marine Band. It was this group that played Linden Hall in early December 1892. (Shortly after the US Marines forced Sousa to drop "New Marine" from his band's name.) Click here for a 1918 Sousa's Band recording of the Sabre and Spurs March, composed and conducted by Sousa. While he was not a performer, we can assume that Sousa ensured this was played the way that he intended.
Geneva Daily Times publisher W.A. Gracey organized vocal concerts and festivals. Two artists he brought to Geneva were soprano Alma Gluck and contralto Louise Homer. Both women performed in the Metropolitan Opera but recorded popular songs for Victor. They sang several duets of Christian hymns, including this 1913 recording of Abide with Me (click here to listen to the hymn).
My favorite discovery was this ad for Joe Belmont appearing at the Nester Roof Garden. The Nester Hotel on Exchange Street was the early version of the Seneca Hotel. (When it became the Seneca in 1913, the new owners added a story and expanded to the north.) I had no idea there was a roof garden – it sounds very elegant.
I'd never heard of Joe Belmont but he rated inclusion in both Wikipedia and National Jukebox.  According to Wikipedia, "Joe Belmont had a prolific career and is believed to have recorded for at least 42 different companies, in both the United States and Europe…His whistling talent was most evident in recordings of bird imitations and in addition to his solo recordings would add "bird effects" to many recordings, particularly for Victor." Dance of the Song Birds, 1913 (click here to listen)  – demonstrates the challenge of acoustical recordings. Although Belmont probably stood near the recording horn, he comes across quietly compared to the orchestra.
National Jukebox is a great resource. If you have recordings or sheet music from the turn of the 20th century, try searching the website and you may be able to hear it!