Everything is Coming up Bloomers!
By Kerry Lippincott, Executive Director
For over forty years Elizabeth Smith Miller (1822-1911) called Geneva home.  An advocate for women's suffrage, she formed the Geneva Political Club with her daughter and brought several famous suffragettes like Susan B. Anthony, Carrie Chapman Catt, and her cousin Elizabeth Cady Stanton to speak in Geneva.     Known as a gracious hostess and accomplished cook, she published In the Kitchen in 1875. The book included various recipes and tips on entertaining, and went through several editions.  Miller is also credited with being the first woman to wear bloomers.  With the mention of bloomers one might instantly think of women's underwear.  But Miller's bloomers were an outfit where the pants gathered at the ankle with a knee length dress worn over the top.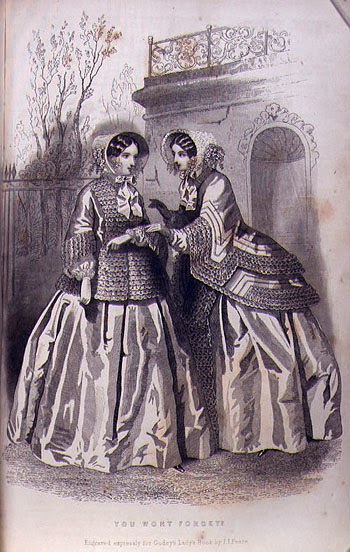 Fashion Plate from Godey's Lady's Book, April 1851
In today's society where a woman in pants is pretty tame compared to some outfits that are out there, Miller fashion choice in 1851 was extremely radical.   In the early 1850s women wore several layers of clothing.  The layers included a chemise, corset, several layers of petticoats (before the introduction of the hoop skirt in 1856 this could mean 8 to 10 petticoats), and a long skirt.  When completely dressed a woman's clothing alone could weigh almost twenty pounds! Miller described the day when she had enough and developed a pattern based on an outfit she saw while in Europe:
In the spring of 1851, while spending many hours at work in the garden, I became so thoroughly disgusted with the long skirt, that the dissatisfaction… suddenly ripened into the decision that this shackle should no longer be endured. The resolution was at once put into practice. Turkish trousers to the ankle with a skirt reaching some four inches below the knee, were substituted for the heavy, untidy and exasperating old garment.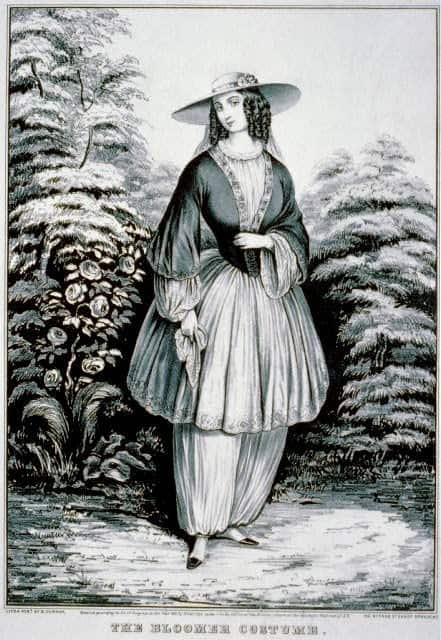 The Bloomer Outfit
During a visit to Stantonin Seneca Falls, Miller wore her new outfit.  She not only inspired Stanton to adopt the outfit but Amelia Bloomer, editor of the local temperance newspaper The Lily, as well.  In addition to wearing the outfit, Bloomer wrote articles about it, printed illustrations of it and published instructions on how to make it in The Lily.  Bloomer's articles on the new outfit were re-printed in newspapers across the country.  This is why the outfit became known as bloomers and not millers.  
Whether for comfort or health reasons, several women across the country began wearing bloomers.  However, these women were soon ridiculed in the press and in public.  Critics saw the new outfit as unwomanly and considered it one step towards women becoming men.  Others saw the outfit as immoral as woman's ankles were simply not meant to be seen.  Citing Deuteronomy's prohibition on cross-dressing, some critics went as far to say the Bible was anti-bloomer.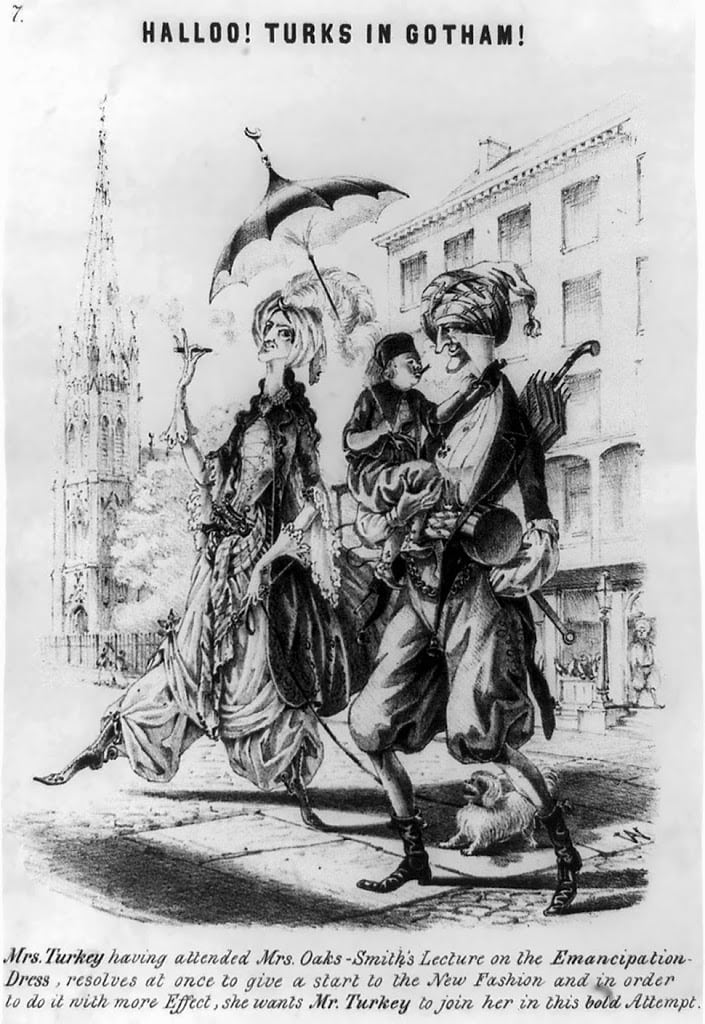 Anti-bloomer cartoon
Since many of the women who wore bloomers were also advocates for women's rights, it was felt that bloomers were drawing attention away from the cause and slowly these women went back to wearing skirts and petticoats.  Miller would wear bloomers for seven years.  She would later write:
I wore the short dress and trousers for many years, my husband, being at all times and in all places, my staunch supporter… The dress looked tolerably well in standing and walking, but in sitting, a more awkward, uncouth effect, could hardly be imagined… 
So, by degrees… I lost sight of the great advantages of my dress – its lightness and cleanliness on the streets, its allowing me to carry my babies up and down stairs with perfect ease and safety, and its beautiful harmony with sanitary laws, consequently the skirt was lengthened several inches and the trousers abandoned. 
As months passed, I proceeded in this retrograde movement, until, after a period of some seven years, I quite "fell from grace" and found myself again in the bonds of the old swaddling clothes – a victim to my love of beauty… 
All hail to the day when we shall have a reasonable and beautiful dress that shall encourage exercises on the road and in the field – that shall leave us the free use of our limbs – that shall help and not hinder, our perfect development.
Though women would have to wait until the 1930s for it to be respectable for them to wear pants and shorts in public, Elizabeth Smith Miller is still owed a huge thank you for taking the first steps.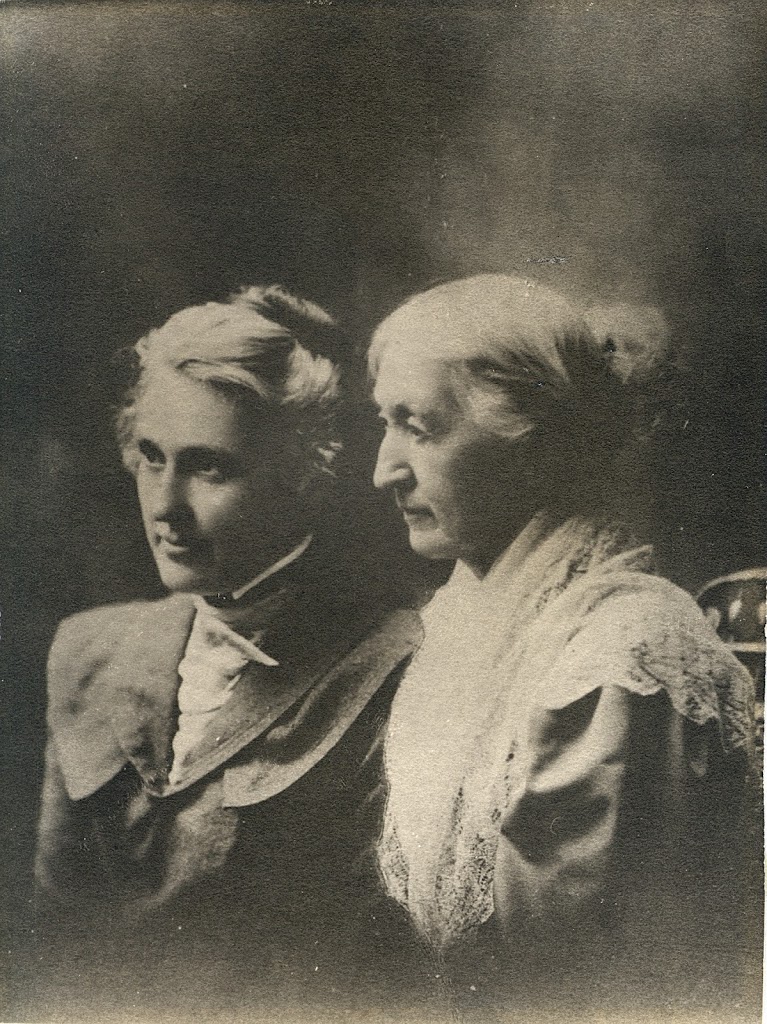 Elizabeth Smith Miller with her daughter Anne