Apple Cider in Popular Culture
By John Marks, Curator
It's apple cider season! Thanks to refrigeration, you can find cider most of the year. True fans like it cold off the press. At Wager's Cider Mill in Penn Yan, the cider travels a few short yards from press to customer. I just learned this year that Wager's hammermill that grinds apples was made in Geneva in 1883.
Until the 20th century, cider usually referred to fermented or hard cider. We've talked about the role of cider in American life. This video offers a history of apples and cider from Native Americans to Cornell Agritech. Our Executive Director Kerry Lippincott has written about alcohol in early American daily life .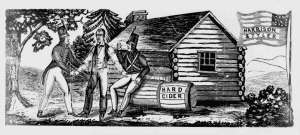 Besides being a beverage, cider has appeared in popular culture. It's often used as a symbol or image of a simpler time. The first major instance was in the 1840 presidential election. William Henry Harrison was the Whig party candidate. Democrats said he was too old, at age 67, to run for president. A Baltimore newspaper thought that Harrison would quit the race if given a pension, a log cabin, and some hard cider.
The Whigs turned the insult to their advantage. Although Harrison was wealthy, he used hard cider and log cabins to show he was a man of the people. President Martin Van Buren was portrayed as an out of touch, champagne drinker. Harrison won by a wide margin, but died a month after his inauguration.
After the Civil War, paintings of rural life often depicted cider making and other farm activities from earlier in the century. This may have been in response to urbanization and mechanization. Cider Making on Long Island by William M. Davis, was done around 1870. Rather than showing post-Civil War machinery, it reminds the viewer of "the good old days." Similar scenes were copied by Currier and Ives and printed in large numbers for the public.
Cider songs have been around for at least 150 years. In 1853 "A Little More Cider" was a popular minstrel show song. "Sweet Cider Time When You Were Mine" was from the phonograph era of the early 1900s. You can listen to a modern performance. Finally, "Sippin' Cider Through a Straw" is a call-and-response song taught at summer camp sing-alongs. There are many versions on the internet; this one is a Smithsonian Folkways recording.