2019 Trip Information Meetings
Join the Geneva Historical Society and First Choice Travel on Tuesday, April 30 at 3:30 and 6:30 p.m. to learn about 2019 travel opportunities to Letchworth Park, Newport, Rhode Island and Cuba.
This year the organizations are sponsoring a three-day bus trip to Newport, Rhode Island from October 10 to October 12. Activities will include tours of four Glided Age "cottages," the Newport Dinner Train, and a visit to the Mystic Seaport Museum. The cost is $579 per person double occupancy, which includes motor coach transportation, tour manager, two nights' accommodations, two breakfasts, one dinner and all admissions.
The organizations are also sponsoring a one-day bus trip to Letchworth State Park on October 15. The day will include visits to the Wadsworth Homestead and Mount Morris Dam Visitor Center and lunch at the Glen Iris Inn. The cost is $129 per person and includes motor coach transportation, tour manager, lunch, all admissions, and driver's gratuity.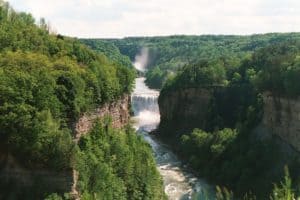 The trip to Cuba will be a cruise to be scheduled for late December to early January 2019. Dates for the cruise have not yet been finalized. A minimum number of participants are required for the trips to run and seating is limited.
To learn more about these opportunities, join us at two informational meetings on Tuesday, April 30 at 3:30 and 6:30 pm at the Geneva History Museum. If you are planning to attend either of the meetings, please call the Historical Society at 315-789-5151.