Reflecting On Family Day
By Mel Oles, Visitor Services and Program Manager at Rose Hill Mansion and Johnston House
On a beautiful summer day, families from around the area came to participate in our annual Family Day at Rose Hill. As I reflect on the successful event, I am overwhelmed with gratitude for all those who contributed to its success.
First and foremost, my deepest appreciation goes out to the dedicated staff at Rose Hill – MJ, Nancy, Maryrose, Cindy, Christine, Allison, Rebekah, Kerry, and Dawn.  Their passion for creating unforgettable experiences was evident in every detail, from the meticulous planning to the warm and welcoming atmosphere they fostered.  Their tireless efforts truly made this day possible, and I am forever grateful for their commitment and dedication.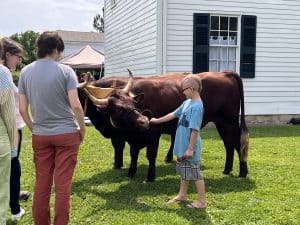 Family Day wouldn't have been the same without the support of our local community.  Ward O'Hara Agricultural and Country Living Museum, Genesee Country Bobbin Lake Guild, Ontario County Dairy Princess Olivia Maslyn, Ithaca Maple Works, the Freier family, Joan Burch and the Time Travelers volunteered their time and energy.  It was a true display of unity and collaboration.  Without them this event wouldn't have blossomed into what became a day filled with hands-on activities and fun.
Throughout the day, there were countless moments that touched our hearts and reaffirmed that Rose Hill is a fun place for families.  Trying to hand crank ice cream, making butter, milking our "cow," and going on a scavenger hunt in the mansion are just some the moments that make Family Day so extraordinary.
To each and every family who joined us on this special day, we extend our heartfelt thanks.  Your presence and enthusiasm were infectious.  We hope that the memories created at Rose Hill were special and fun.
We have already started to plan for the next year (mark your calendars for Saturday, August 10).
Again, I extend my deepest gratitude to all those who made Family Day at Rose Hill a resounding success.