A Trip With A Purpose
By Kerry Lippincott, Executive Director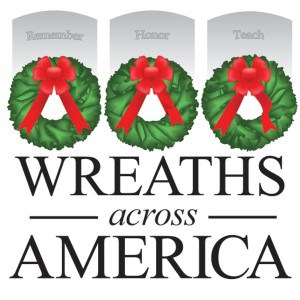 When I heard about the Wreaths Across America trip my first thought was count me in for a weekend in Washington, DC.  Though we did tour several memorials (the FDR memorial is a must see) and visited museums (I highly recommend the White House Visitor Center and "FOOD: Transforming the American Table, 1950-2000"  at the National Museum of American History), nothing quite prepared me for the primary purpose of our trip – laying wreaths at Arlington National Cemetery.  It's one of those moments where you just had to be there.
Held on the second or third Saturday in December, Wreaths Across America has a rather simple beginning.  In 1992 the Worcester Wreath Company in Harrington Maine had a surplus of wreaths so arrangements were made for the wreaths to be placed in one of the older sections of Arlington National Cemetery.  By 2008 wreath laying ceremonies were being held across the country.  This year over 900 locations held ceremonies in every state, Puerto Rico and 24 overseas cemeteries.  Locally, a ceremony was held at Sampson Veterans Memorial Cemetery.
Since there are no reservations, a check-in, or registration (believe it or not people simply show up), our group of 52 from the Historical Society, Wayne County H.O.G.G and St. Benedict's Parish left our hotel early on December 12.  Within a mile of Arlington we caught up in a traffic jam.  I think we all were surprised by the number of people walking to the cemetery as we were by the number of vehicles.  Once we found a way into the cemetery, our instructions were simply – find a truck and wait for the distribution of the wreaths.  While we waited in line, we met two sisters (one sister lives in Pennsylvania and the other near New York City).  Their parents are buried at Arlington and for the past two years they have participated in the event.  Even they were surprised by the number of people.   Shortly after 9:45 am, we were given instructions to lay our wreaths in Section 52.  Everyone was given two wreaths and wreaths were laid until all the trucks were empty.
Here's are just a sample of what some members of our group did.  One person got back in line five more times and laid about 12 wreaths.  Another kept walking around going to different trucks until the wreaths ran out.  With assistance from others, an eighty-one year old widow found her husband's grave.  A navy vet completed her mission – finding her commanding officer's grave and laying a wreath on it.
Within two hours the cemetery was completely transformed.   Two things still stand out in my mind.  First, was the age range of the participants.  I can honestly say that every age demographic was represented.  Wreaths were bigger than some of the toddlers but they proudly toted their wreaths.   Second, was the view of the cemetery as we were leaving.   An estimated 240,815 wreaths were laid and I'm proud to say I was part of that.