Fund for Historic Geneva
By John Marks, Curator of Collections and Exhibits
After two essays about urban renewal, both government and private, it's time to turn to historic preservation. While inspired by urban renewal demolition on Seneca and South Exchange Streets, Geneva's earliest efforts were focused on residential buildings.
Warren Hunting Smith (1905-1998) was the grand-nephew of William Smith. He graduated from Yale in 1927 and earned his PhD there in 1931. While he lived and worked in New Haven, Connecticut for over 50 years, Mr. Smith returned often to Geneva. As a painter and an author of several books about Geneva, he captured the landscape of the city's skyline and the architecture of prominent streets.
In a 1961 letter to the Geneva Historical Society Mr. Smith first registered his concern for historic preservation. Urban Renewal was being proposed and he was worried that South Main Street rowhouses north of Pulteney Park might be threatened.
In February 1965 Mr. Smith proposed "setting up some sort of revolving fund to be administered by the society to aid in the restoration or preservation of some of the more valuable buildings in town." He offered $100,000 to start a fund. By June an agreement was in place for a "permanent revolving fund….to be known and designated as the Fund for Historic Geneva….Since the older buildings in the City of Geneva are a cultural asset of great importance, their preservation, both singly and as a whole, is deemed essential to the beauty, prestige and economic value of the community."
Historic preservation was still relatively young and Warren and a nine-person advisory committee had to develop a plan of their own. The agreement stated that "…this Fund is not designed to do for owners what they should do for themselves. In the case of historic buildings, however, the exterior design and ornamentation of the structures may sometimes require maintenance considerably over and above the expense of keeping up the basic construction…the interests of the community may occasionally justify the granting of loans without interest, or even outright gifts from this Fund, solely to protect the historic and scenic assets of Geneva."
The first areas of attention were South Main and a block or two to the west for early architecture, and Genesee Street between Castle and North for its late-19th century houses. Mr. Smith recognized that other houses and areas may be added over time. The agreement included clauses permitting the fund to buy historic structures:
To repair and restore for resale, even if sale funds did not completely cover the costs
To remove to new sites and repair, when in danger of demolition, and
To purchase for eventual resale to private owners for restoration
In 1966 the first projects were funded. Not surprisingly, a number of Greek Revival houses on South Main Street needed work on their columns, cornices, and chimneys. This included three of the Hobart fraternity houses and the Geneva Women's Club. Hobart and William Smith Colleges also borrowed money to restore Trinity Hall, one of the oldest buildings on campus, and Blackwell House, a William Smith dormitory. A number of private owners received loans to restore windows to their original "6 [panes] over 6" appearance.
Per the agreement, the Fund did move two houses that were in danger of demolition. The Achilles house on Park Place was threatened by expansion of The Presbyterian Church and was moved to the Lochland School property. When Geneva High School built a new south wing and parking lot, the Ludlow house that had been used by the Board of Education was moved to South Main Street next to, at that time, the Masonic Temple. They also purchased and repaired 394-398 South Main Street.
These are just several of the early projects of the Fund for Historic Geneva. The Fund is still active and continues to "protect the historic and scenic assets of Geneva." If you have an exterior restoration project in mind that is above and beyond normal maintenance, you may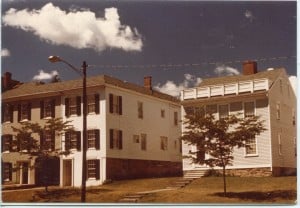 contact the Historical Society at 315-789-5151 or at info@genevahistoricalsociety.com