New Staff Member Joins Historical Society
By Mel Oles, Visitor Services and Programs Manager at Rose Hill Mansion and Johnston House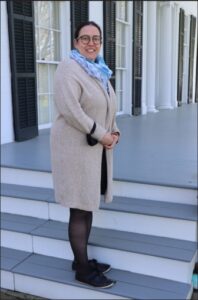 I was recently awarded the position of Visitor Services and Program Manager at Rose Hill Mansion  and Johnston House.  I am very excited to get started and contribute to this growing not-for-profit.
For over ten years I've worked at different museums but the most relevant is the Thomas Cole National Historic Site (TCNHS). I was the Director of Education, Operations and Security at TCNHS, where I planned and implemented a broad range of public programs including, but not limited to, lectures, guided tours, audio tours, guided hikes, workshops, symposium, book signings, performances, and school programs. I worked both collaboratively and as a team leader with the Board of Trustees, the Executive Director, staff, volunteers, and fellows to formulate, conduct, and evaluate public programs. I was a member of the Outreach Community Program and helped to develop and implement the first annual Community Day at the site.
I received my Bachelor's degree from the SUNY New Paltz with a major in Interpersonal/Intercultural Communication and Media and a minor in Art Studio/Printmaking.  I also attended CUNY City College  with a focus in Museum Education. My thesis was on t immersive experiences in historic house museums. I was awarded the Barnabas McHenry Hudson River Valley Award through the Open Space Institute in which I served as a Fellow at the TCNHS.
Born in Delhi, New York, I grew up surrounded by nature. Early on, I developed a love for the history, art and museums. Now I live on-site in the Carriage House with my two cats.  I often spend my free time visiting other museums and historic sites.
I am very excited to get started and contribute to this growing team.  I hope to meet and work with all of you soon.  If you would like to contact me, please send an email to rosehill@genevahistoricalsoceity.com or call (315) 789-1840.