Night Life Victorian Style
Before electricity, what did Victorian families do in the evenings? For some the answer was simple – they went to sleep. Others did a variety of activities by candlelight, oil lamp, or gas light. Like today, children had homework. Without texting, Facebook, Instagram, etc. people kept in touch through letters, and evenings could be spent catching up on correspondences. A must-have in any middle and upper class home was a piano, so singing, listening to, or playing music was a common activity. Most people spent time reading, and in many homes people read aloud from popular novels and magazines like Harper's Monthly and Atlantic Monthly.  Women sewed and knitted. Board games, cards and other parlor games were played. The Swans at Rose Hill, for example, played "Lotto," a Bingo-like game where the stakes were candy. Family and friends could also come for a visit.
Of course, people didn't have to stay home. One could visit family and friends. Public entertainments like dances, lectures and concerts could also be attended.  Before the Smith Opera House there was Linden Hall. Opened in 1855, Linden Hall was the first suitable place for public entertainment in Geneva. Located where Super Casuals stands today, Linden Hall was typical of its time. The first floor was a store while the actual hall was on the second floor. The hall was used for balls, athletic events and various performances. On December 4, 1871, for instance, Mark Twain presented a lecture to mixed reviews.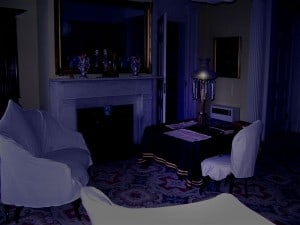 Curious about night life in the late 1800s?  Joins us on Friday, May 15 for Rose Hill By Candlelight  and see the mansion in a whole new light! Visitors will discover how the Swan family spent their evenings while viewing the first floor of the mansion by (electric) candlelight. Tours will leave every 30 minutes beginning at 6:30 p.m. The tour will last approximately 45 minutes and the last tour starts at 8:30 p.m. This special event includes light refreshments. Admission is $10 per person, $7 for members of the Geneva Historical Society. As space is limited, reservations are suggested, but not required. Call 315-789-5151 for reservations.