ROC the Day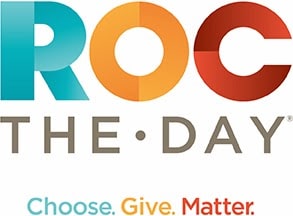 On December 11 local Geneva nonprofits will be participating in ROC the Day.  Organized by the United Way of Greater Rochester, ROC the Day is a 24-hour, online event that provides individuals an opportunity to support nonprofit organizations in the Great Rochester area.
The concept is simple, on December 11 go to www.roctheday.org
 and fill a "shopping cart" with the charities you wish to support.
  Last year ROC the Day raised over $875,000 for Rochester area nonprofits. 
This year,
Geneva 
nonprofits are collaborating together.
Between 9 am and 6 pm on December 11 we invite community members to the Smith Opera House to see the great work being done by Geneva nonprofits, enjoy free entertainment and refreshments, and donate-on site.   Participating nonprofits are 
Boys and Girls Club of Geneva/ Geneva Community Center
Family Counseling Service of the Finger Lakes
Foundation for the GenevaPublic Library
Geneva
Center of Concern/Geneva Food Pantry
Geneva
Community Lunch Program
Geneva
Community Projects: Geneva Dog Park
Geneva
Historical Society
Literacy Volunteers of Ontario-Yates
Success for Geneva's Children
Whether it's at the Smith Opera House or www.roctheday.org, on December 11 please consider becoming a ROCstar and make a difference right here in Geneva.