Wassail Bowl and Sale
The holly and the ivy,
When they are both full grown,
Of all the trees that are in the wood,
The holly bears the crown.
            Excerpt from a traditional English Christmas Carol
On Saturday, December 5 the 47th Annual Wassail Bowl and Sale is being held at the Presbyterian Church, 24 Park Place in Geneva, from 10 am to 2 pm.  This is a great opportunity to get fresh wreaths and greens including kissing balls and table decorations.  Handcrafted items, baked goods, attic treasures, and gently used Christmas decorations will also be sold.  All proceeds benefit the Geneva Historical Society.  Samples of wassail, a traditional spiced cider, will be available for tasting.  Among the greens will be holly.  Believe it or not, hanging holly actually has a long history.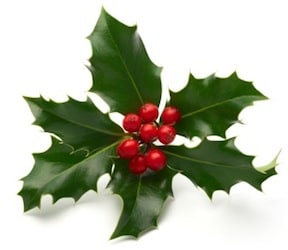 Since holly remains green and strong year round, it was considered a sacred plant by the Druids.  They also believed holly had magical powers.  Cutting down a holly tree brought bad luck.  To protect themselves from evil spirits and mad dogs, the Druids hung holly around their homes and incorporated holly into their clothing.  Hanging holly around a house was also used as protection against lightening strikes.  The Romans celebrated the winter solstice with Saturnalia, a festival honoring Saturn, the god of agriculture.  As part of the celebration holly was hung on doors to keep evil spirits away and holly wreaths were exchanged as gifts.
Eventually holly was incorporated into Christian celebrations, particularly Christmas, and given special meaning. The prickly leaves represent the crown of thorns worn by Christ on the cross and the berries drops of His blood.  Green year round holly also came to symbolize eternal life.  Superstitions about holly remained.  There were beliefs about when holly should be taken down.  Many believed it was unlucky to keep holly up after the Twelfth Night (January 6).  Others saved the branches until the following winter to bring good luck and protect the house against lightening.  In England holly was a male plant and ivy the female plant.  Whatever plant was brought into the house first over the winter would tell whether the husband or wife would rule the house for the year.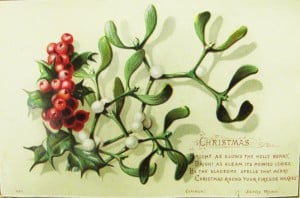 By the 1800s holly, along with other greens, were used as indoor Christmas decorations.  Holly was wrapped around picture frames, clocks, chandeliers, and mantles, displayed in in vases and baskets, and hung as wreaths on indoor windows.  It was even served as a garnish and worn by women as hair decorations.  During the 1900s magazines and decorating guides began to encourage people to decorate the indoors and outdoors with holly and other greens for Christmas.
To get your greens, join us at the Wassail Bowl and Sale on December 5.  For more information about the history of holly read "With Boughs of Holly."