Reflections on the 2022 Community Survey
By Kerry Lippincott, Executive Director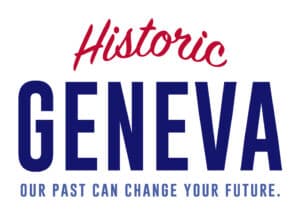 To go anywhere in life, you need some kind of road map.  For nonprofits this means a strategic plan.  For a good portion of 2022, a committee and I worked with Causewave on a new strategic plan.  Along with a framework to guide our activities for the next three years, we rewrote our mission and vision statements.  While our former mission statement still holds true, we feel our new statement embodies who we are – Historic Geneva shares and preserves Geneva's stories through crafted educational experiences that engage the community and visitors with its diverse stories.  Our new vision is   – Bringing Geneva together through shared stories.
As part of the process, we also conducted a community survey and had the best response rate to date.  The following are the what our community would like to see from Historic Geneva –
Occasional volunteer opportunities
Improved promotion/communication to raise awareness about Historic Geneva and our activities
Better physical accessibility and parking
Increased online resources for research
More diversity and inclusivity
Expanded and modernized facilities
Innovative programs connecting the past and present
Free events
Through the survey we learned a lot and I thank everyone who took the time to respond.  Here's how we are addressing the survey results –
Volunteers – The staff has re-examined our volunteer program and we've started "Be A Part Of Historic Geneva" campaign.  Our volunteer opportunities focus in five areas (collections, committees, events, Rose Hill, and miscellaneous projects) with various levels of commitment.
Improved communication – From newspapers to social media, there are some many methods of communication nowadays.  While we will continue to use traditional methods (like press releases, postcards, and newsletters) there will be a focus on online channels (including social media, community calendars and emails).
Better physical accessibility and parking – We recognize that visitors have diverse needs and try to offer accessible programming to enable all visitors to explore our sites. However, accessibility for guests with limited mobility can be challenging at our historic sites due to their historic and natural features. With advance notice, we will make every effort to respond to visitors' access needs.
The parking issue is primarily related to Geneva History Museum.  Unless there are suggestions for how to improve parking on South Main Street (or a way to build an underground parking garage), there is little we can do about parking for the museum.  Plans, however, are being developed to make the building more accessible.  At Rose Hill, the first floor of the Mansion is accessible and there is an accessible bathroom in the East Tenant Cottage.  On our website there is a 365-degree view of the mansion's first floor.  Technology may be a way for us to make the mansion's 2nd floor accessible.
Increased online resources for researchers  – Digitizing our archival collection takes staff time, money. partnerships, and other resources.  We prioritize what gets digitized by preservation needs or available grant opportunities.  For example, last year our Archivist oversaw the audio reel project.  With funding from the Rochester Regional Library Council our audio reel collection was digitized, cleaned and re-housed.  Metadata was created and oral histories from the collection are posted on New York Heritage.
Through partnerships with organizations like Empire Archival Discovery Cooperative and New York Heritage, we can offer portions of our archival collection online. The following are currently available online –
More diversity and inclusivity – We try to ensure that our exhibits, collections, online content , and programs reflect the diverse backgrounds found in Geneva's past and present. Partnering with other organizations and participating in community events also allows us to reach boarder audiences.  That said, we can do a better job of being more diverse and inclusive. Here are some of the steps we are taking to be more inclusive to the Geneva community.
Community- curated exhibits – In 2020 we began hosting community-curated exhibits like Community Curators and the My Geneva Is…. series (thematic photography exhibits). Our goal is to host at least two community-curated exhibits each year.
Creation of Diversity Committee – With representatives from the community and Board, the priorities for the committee include developing a diversity and inclusion statement and recruiting more diverse community members to serve on our committees and Board.
Implementation of Collections Development Plan – The plan describes what we have in our holdings and outlines courses of actions to fill gaps within the collections. Through the plan our goal is to have a better representation of all Genevans in our collections.
Make A Way Somehow Project  – To celebrate the thirtieth anniversary of Make A Way Somehow's publication, we are creating an exhibit that will continue the story of Geneva's African American community from 1965 to present day.
Slavery and Rose Hill – Between 1792 and 1796 and 1803-1827 enslaved people lived and worked at Rose Hill. While slavery has been part of the regular guided tour since 2010, we are incorporating this story into exhibits and online content.  The long tern exhibit One House, Many People chronicles enslaved, paid, and volunteer workers from Rose Hill and a new exhibit will open this summer about slavery in the north.
Geneva Storytellers' Award – Geneva is filled with stories. While we are the primary repository of these stories, we are not the only storytellers.  Whether its ongoing effort or one-time projects there are community members who are telling stories from Geneva's past and present.  We are currently seeking nominations of individuals, businesses and non-profit organizations who excel at telling our community's stories in innovative and meaningful ways.
Free events- Along with a variety of topics, formats, and presenters, efforts are made to offer programs at minimal or no cost to the public. Our spring and fall lecture series, the summer concert series, History Happy Hours, and Family Day and Museum Day at Rose Hill are free. The Geneva History Museum and Johnston House also have free admission.
There is more work for us to do but we also need help from the community.  Here are a few ways that you can help us –