The 2022 Season At Rose Hill
By Mel Oles, Visitor Services and Program Manager at Rose Hill Mansion and Johnston House
The 2022 season at Rose Hill Mansion has come to a successful end.  After a few years of limited hours, no special  events or international visitors due to COVID-19 it's with great pleasure to announce that Rose Hill has returned to normality.
The season's success is primarily due to our tour guides –  Kerry Adams, Maryrose Arimoto, Cindy Austin, Rebekah Clark, Dawn Jendrick, Christine Murphy, and Nancy Wright.  As Rose Hill's ambassadors the guides meet people from all over the world.  In addition to the visitors from twenty-nine states, this season we had visitors from New Zealand, England, China, Germany, Canada, and France.  Visitors even came from Geneva, Switzerland to see another Geneva.
Our free summer concerts returned this season.  We are happy to announce that the concerts will be back in 2023.  The dates of the concerts have been picked and two out of the three bands have already been booked.  The bands are happy and eager to get back to playing to a live audience.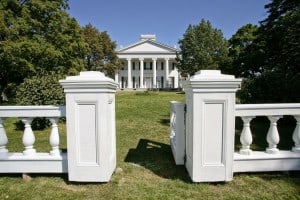 Besides the concerts, Community Day now known as Family Day was held on August 13 with animals, Ward O'Hara Museum, games, and mansion was open for free (link).  A few new surprises are being planned for 2023.  As the largest program at Rose Hill, it's successful is due to the hard work of the staff and volunteers.
Along with painting projects inside and outside the mansion, several repairs were done.   The belvedere (tower on top of the mansion) was refurbished and looks like new.  Five roofs were also replaced on the mansion.  In the spring the mansion was power washed to give it a good cleaning before we opened it to the public.  The grounds were maintained, and flowers were planted.
Now we are closing the site up for the winter months.  The outside furniture is brought in for safe keeping and storm windows are closed.  Inside the mansion antiques and collection pieces are covered with sheets for the winter. The sheets protect the objects from sun expose and dust.
Thank you to all who volunteered, donated, and visited.  We will keep you updated on new findings and plans for 2023.  See you next season.