2023 Geneva Storytellers' Awards
Geneva is filled with stories.  While Historic Geneva is the primary repository of these stories, we are, however, not the only storytellers.  Whether it's an ongoing effort or a one-time project, there are individuals, businesses, and organizations throughout the community who are telling stories from Geneva's past and present.
On June 15 at Rose Hill we held the second annual Geneva Storytellers' Awards, where we honored Lillian Collins, Finger Lakes Community College's Geneva Campus Center, and Water St. Café.
Lillian Collins moved to Geneva in the mid-1950s. After graduating Geneva High School, she began her career as a secretary in the Office of Publications at Hobart and William Smith Colleges in 1967. Lillian did much more than her official title, supporting students, getting involved in the Office of Intercultural Affairs , and connecting the Colleges with the Geneva community. Her unofficial title as "Coupon Queen" originated from care packages and welcome baskets she gave to students and community members, and mentoring others on her savings techniques.
Within the Geneva community, Lillian was the first recipient of the NAACP's Mary Ann Mallard Award in 1995. She has been a longtime supporter for many non-profit organizations and served on the boards of Historic Geneva and the Geneva Human Rights Commission. For decades she has collected articles, programs, photos, and other materials related to Geneva's Black and Hispanic communities using her connections far and wide for the sole purpose of preserving their stories. After a call for contributions to our exhibit Lift Every Voice: Geneva's Black Community Since 1966, Lillian called to give us a chance to go through her collection. She brought us box after box for us to look at.  Without her contributions we could not have completed the exhibit.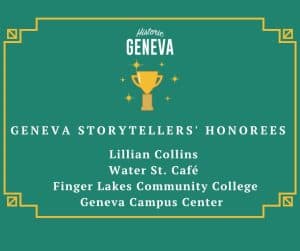 Since September 1984, Finger Lakes Community College's Geneva Campus Center has been committed to telling stories about Geneva and those who live and work here.  The current Center at 63 Pulteney Street, built on the site of the former Geneva High School and Middle school, remains a lasting tribute to those schools by incorporating architectural elements from the 1920s-era building it replaced. In 2016, the Geneva Class of 1963 presented the Center with a plaque of appreciation." The plaque, affixed to the wall in the central lounge of the campus center, features a photo of the 1920s building.  The Center also hosts a marker that covers the history of education at the 4.6-acre site, ensuring that important people and events (including Isaac Swift, the first principal of the Geneva Union School) from the city's past can be shared with visitors and new generations of Genevans.
Within the building, the Center hosts special events that celebrate the life journeys of alumni, many of whom have strong connections to Geneva businesses and institutions. As an open access institution, the Center continues to welcome all Genevans to build their own stories within our walls.
For over twenty years Water St. Café has been a staple in our community. With a menu that features locally grown and Finger Lakes inspired items, Water St. plays an integral part in the daily lives of our community, especially its senior citizen population.  During the pandemic they provided members of the New York State National Guard stationed in Geneva to help with vaccine distribution and the nursing home staffing shortages with breakfast (the only local establishment to hold such a contract).  At the peak Water St. fed 70 soldiers' breakfast seven days a week.  In addition, Water St. regularly supports local organizations like the Boys and Girls Club, Geneva Public Library, and Safe Harbors of the Finger Lakes.  As their nomination form stated, "Water St. Cafe is, a place where so many come together to share a meal and to be plugged in to the heartbeat of Geneva."