A Basket of a Tale
By Alice Askins, Education Coordinator at Rose Hill Mansion


When people donate objects to the museum, we always ask if they know anything about the history of the items. Sometimes there is a family story about who made or owned a piece, and we take those stories seriously. Once in a while, though, when we look into the story, we find that there may have been some misunderstanding as the tale was passed down. One example of this is a basket given to us by the Hutchins family. 

According to Agnes Swan Hutchins a tan grass basket with dark deer silhouettes was acquired by her grandmother Margaret Alexander Johnston on Anticosti Island in 1822. Margaret was traveling with her young children Elizabeth and James, her sister-in-law Agnes Johnston, and a woman named Margaret McMath who may have been a cousin. They were coming to join Margaret Johnston's husband John Johnston, who had come the previous year and bought a farm on the east side of Seneca Lake.  Anticosti Island is at the outlet of the St. Lawrence River into the Gulf of St. Lawrence, and it has caused over 400 shipwrecks.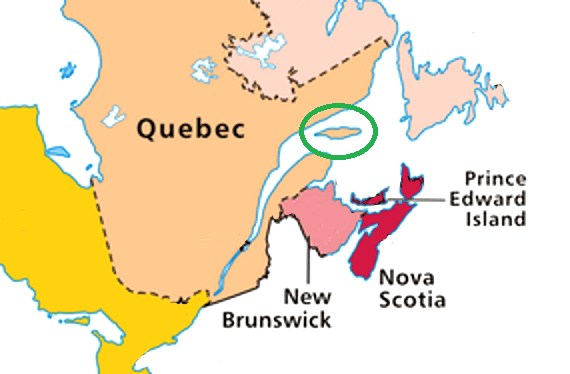 Anticosti Island is circled in green

In the spring of 1822 it caused a wreck for the Thompson's Packet which was probably Margaret's boat as she told the family that she had sailed on the brig Thompson. Based on shipping records from Montreal, people boating in the gulf kept an eye peeled for trouble. If a ship was aground, someone sailed up to Montreal and told the harbor master that there was a boat in trouble. Ships were then sent to rescue the people and tow the boat into harbor. The Thompson's Packet was stuck at Anticosti for 16 days, and "received much damage, bout [sic] two leagues to the westward of Grand Bay." Meanwhile, John Johnston was frantic about his family. When they did not show up in Geneva he tried to trace their journey backwards in hopes of locating them.  After a difficult journey on each side, the family was finally reunited in Montreal. 

Based on Agnes's account native people were living on Anticosti in 1822, and her grandmother acquired a basket from them. She believed that this was the basket in our collection. 

Last year I tried to learn more about Anticosti and its native inhabitants. I discovered that although the Mi'kmaq and Innu people often hunted on Anticosti, neither of them had settlements there.  The shipwrecked passengers may have encountered native people, but I had to wonder how likely hunting parties would have been to have fancy baskets with them.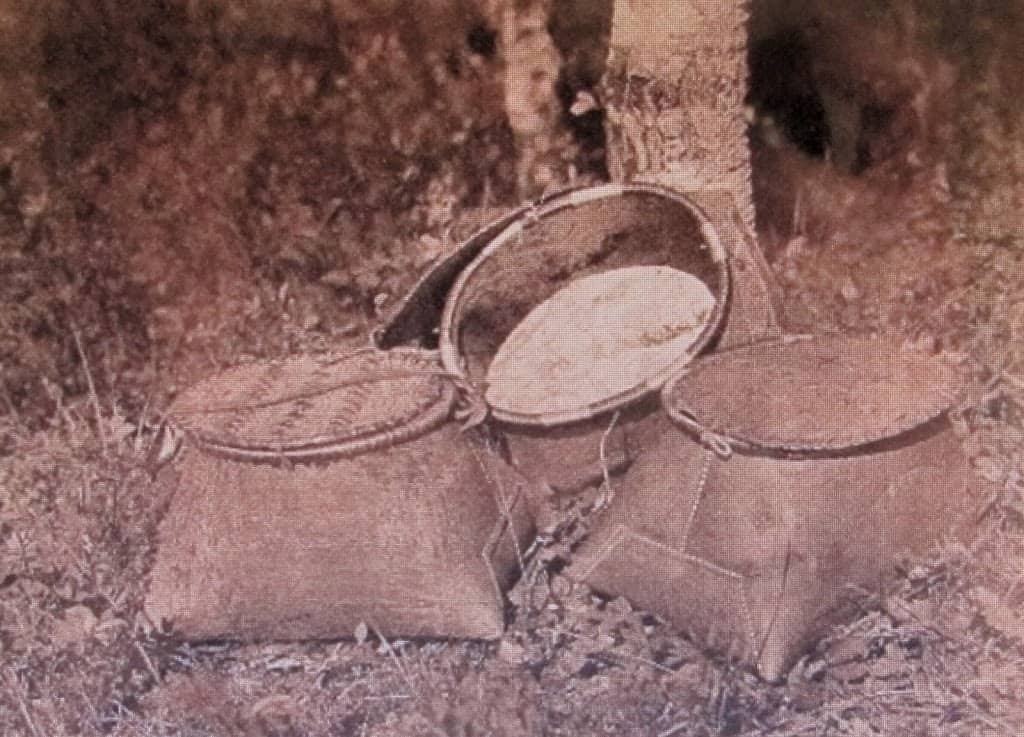 Innu baskets
When I began looking for of Mi'kmaq and Innu baskets online, I was a bit taken aback to find that Mi'kmaq baskets were usually ash splint, and unadorned, or birch bark with quill embroidery.  Innu baskets were apparently also of birch bark.  After contacting the First People's Hall of the Canadian Museum of Civilization and the National Museum of the American Indian, I was referred to the Phoebe A. Hearst Museum of Anthropology in Berkeley California.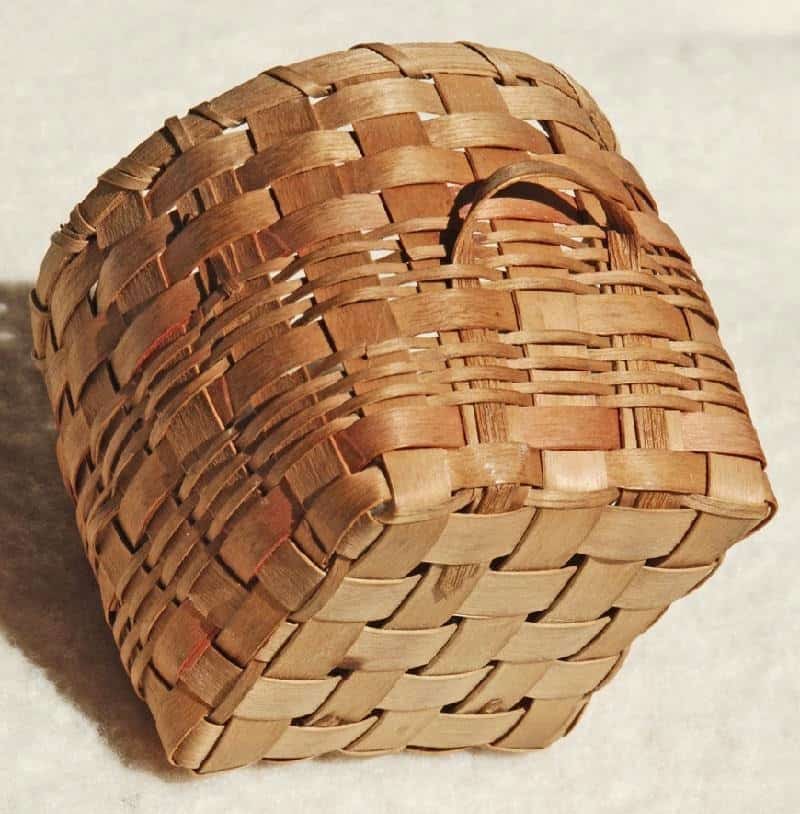 Mi'kmaq basket


The Hearst Museum's basket specialist, Natasha Johnson, agreed with the National Museum of the American Indian that our basket looks northwestern, and she asked for pictures of its interior. Below is her response –  
Based on the weaving on the interior (tribes to the west and south had plain interiors) I'm pretty positive this basket is Shasta, Wintu, Achumawi (Pit River) or Atsugewi (Hat Creek) that style is common to all four.  It's not an area I know super well, but I'd estimate the basket to be any time from 1880-1950, possibly made for sale.   . . .  All Northern California tribes used Bear Grass (white) and maidenhair fern stem (black) in their overlay designs.  The under wefts are probably conifer root of some sort and the warps are often hazel or willow shoots.  The basket is twined, mostly plain twined, with three strand twining on the base, again for increased strength. . . . .
She also sent a link to a picture of one of their baskets that looks very similar.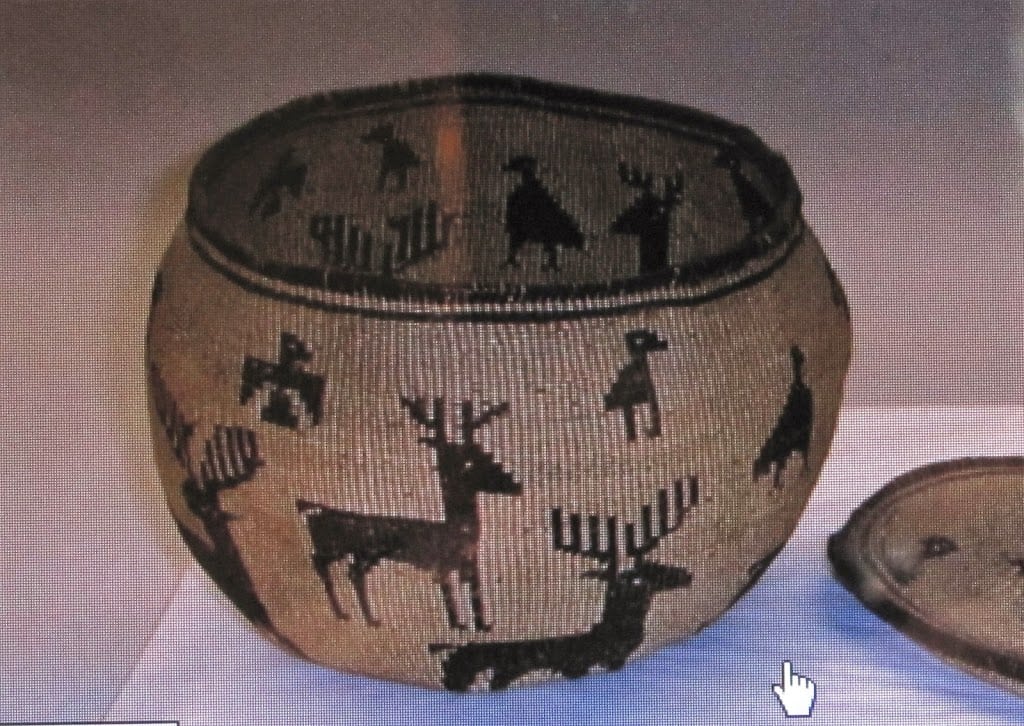 Shasta basket from the collection of the Phoebe Hearst Museum of Anthropology
It's hard to know, looking at the pictures, how our basket could be anything other than a Northern California specimen. Though I was disappointed to find this out, I wonder if the Johnston/Swan/Hutchins families had more than one basket in their attic, and if the story became associated with the wrong one. But it is still a beautiful piece, and it is better to know than not to know.