Every Now and Then
By Kerry Lippincott, Executive Director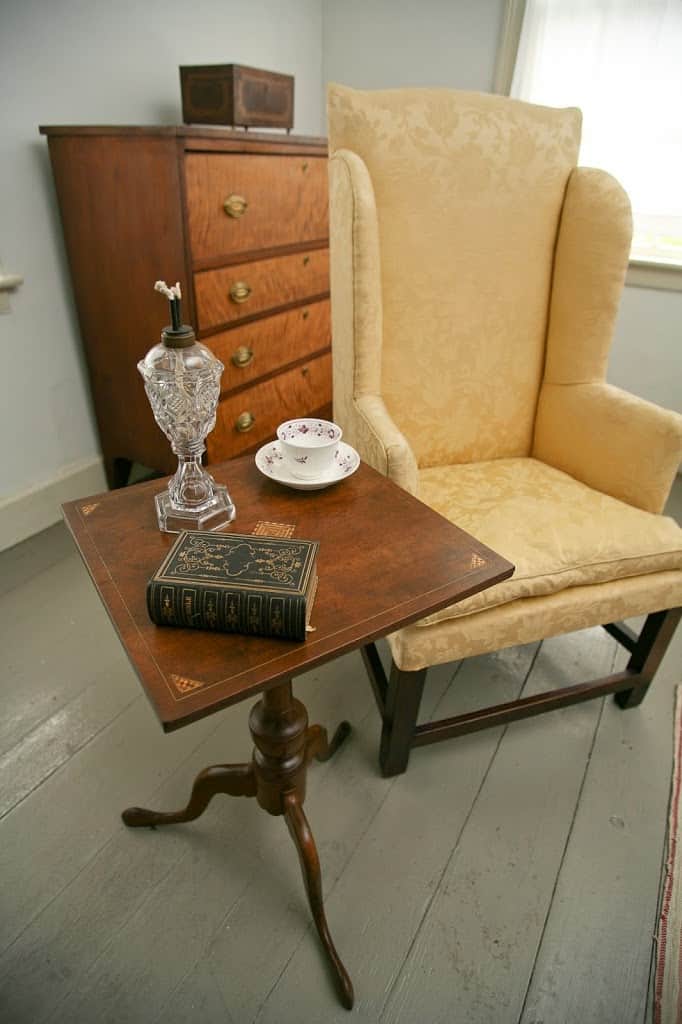 During a session about boards at Camp Finance last year, it was suggested that a mission moment be part of a board meeting.  Loving the idea, I started sharing a mission moment (or two) during my report to the board.  Simply put, mission moments serve as examples and reminders of we, the Geneva Historical Society, exists.   Last week, I had a mission moment and was reminded of why I do what I do.
While giving a tour of the Geneva History Museuma visitor became most impressed with our collections storage.  It is here where one can find, among other things, Native American artifacts, Whale Watch wine glasses, a blue print to develop the Lake Front, furniture, and painting by Arthur Dove. As he was leaving the visitor stated that the exhibits are nice and organized but there was just something about seeing everything in one space. 
And objects (three-dimentional and papers based) are at the very heart of what we do.  Without objects, how could we tell Geneva's stories?  How can we document the changes over time in Geneva without maps, photographs or city directories?  What would Rose Hill be like without furniture?   Who would want come to an exhibit with just text?  How can we explain John Johnston's contributions to agriculture without a drain tile or his writings? 
Our entire collection consists of approximately 7,000 three-dimensional objects, 2,000 costumes and textiles, 1,300 cubic feet of archival materials and 50,000 photographs.   The William Walker Collection is a collection of American furniture and decorative arts from the 18thand 19th centuries.   The objects displayed within our three historic houses also include 18th and 19th century furnishings and artwork.  Located on the grounds of the Johnston House, the
Mike
Weaver Drain Tile Museum
displays a collection of agricultural drain tiles.
Several years ago I heard that the Smithsonian displays about 3-5% of its collections.  It's pretty safe to assume that this true for most, if not all, museums.   When not on display objects do reside in storage but they do have other uses as well.   They serve as the basis for programs for people of all ages.  Objects are available to researchers or as loans to other museums and institutions. Through social media and technology we are finding other ways to share our collections.  Several times a week John posts images on our Facebook page.  As members of the Rochester Regional Library Council we are able to digitize portions of our archival collection and these collections are accessible on-line through New York Heritage.  
And for me it all started with an object – a  quilt.  During my junior year of high school students had a shadow day where they followed professionals in a career that they were interested in pursuing.  With an interest in American History, my guidance counselor said I had two options – become a teacher or write history textbooks.  Neither option appealed to me.  Not knowing what to do with me, I was sent to the Rochester Museum and Science Center where I spent the day with a curator and educator.  And I had an awesome today!    I got a behind-the-scenes tour and received plenty of freebies from the gift shop.  Towards the end of the day I got to assist with a photo shoot of a quilt that had recently been donated to the museum.     As we got the quilt out of its box there was some general discussion about the quilt – it was a friendship quilt made in 1854.  We were told that the maker had signed one of the corners.  To my utter amazement the signature was on my corner and when I looked there was Susan B. Anthony's signature!!   I was actually touching a quilt made by Susan B. Anthony!!  Seventeen years later words still can not describe how I felt for that hour.  In handling the Anthony quilt with my white gloves I knew what I wanted to do.  And it's nice to be reminded of that every now and then.