What Is A Finding Aid And How Does It Work?
By Becky Chapin, Archivist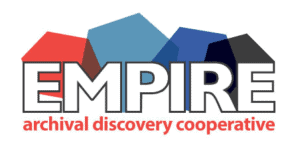 Prior to 2020, we did not list individual inventories on our website, just a list of subjects and surnames. But efforts by the Empire State Library Network to consolidate archival collection information across New York State allowed us to find a home for the inventories and finding aids that we have and are continuing to create. At the Empire Archival Discovery Cooperative, I was able to transfer our finding aid information into their system and create access through their website.
In the last year, I've made significant steps to increase accessibility online to our inventories and finding aids. And while it may be a well-known term for researchers who regularly interact with archives and special collections, it may be new to those who are casual researchers so I wanted to write a quick blog to explain. A finding aid is a document which places archival resources in context by providing background information on the subject, the size and content of the collection, and an inventory of the materials contained in a collection.
Parts of a finding aid:
Title, Size, Accession Numbers
Provenance
Scope and Content
Background Information/Biographical Note
Related Materials, Subject Terms
Container Lists
1- Accession numbers provide a reference to locate the donor information and allows us to file items more appropriately. This section also provides notes for how large the collection is, such as the number of boxes or linear feet.
2- Provenance gives context for how the materials came into the collection as well as the origins or line of custody of the item or collection. Many of our collections are the result of various donors, but there are some that belong to one donor or were put together by the Historical Society. Example: The American Can Co. collection includes Historical Society collected items and three other donors, two who worked the factory floor and one who was a secretary, which gives a holistic look at the company while it was in business.
3- Finding aids can also explain the types of materials included in the collection. If you're looking for photographs of someone and the 'Scope and Content' note does not list photos, then accessing the physical collection is not necessary. This section will also explain what time periods the collection covers and is useful for collections such as Hobart and William Smith Colleges, which was once two separate institutions (their materials are divided to reflect their time as separate and combined institutions).
4- As a staff, we do a lot of research for exhibits, blogs, and other projects. That research usually ends up as the biographical information for the finding aid which facilitates quicker access for both us and researchers, instead of doing the research over and over again. Background information could also be provided by the donor at the time of the gift and will be noted in this section.
5- Each finding aid contains references to other materials in our collection which have related items (ex: HWS- Benjamin Hale and Geneva College) and facilitates ease of access for staff and researchers. The great thing about the EADC is that if someone is inputting search terms, such as 'American Can' or 'Robert Breed' or even 'dairy congress,' those finding aids will be in the results which then directs people to our website and archive holdings. This allows researchers to find us more readily and for us to help others find answers.
6- The container list is a complete inventory of the materials in the collection, which can be at a folder or item level. My goal since I started as archivist was to create an item level inventory of all our collections so we know what we have and where the items are stored. This is important for maintaining provenance/original order when removing and accessing materials; materials can be filed appropriately after use just by referencing where it is on the list.